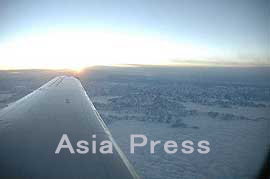 The whole village knew me simply as "Fiboks" ? the man with antuku (goggles). Before the advent of electric fishing gear, the Aetas fished in the traditional way. By the aid of antuku, rubberized spectacles, they caught fish in the river using a simple iron spear and sometimes only their bare hands. My video camera is described as a fishing glass. Using their antuku, they catch fish. By my camera, I catch images.
Comrade John started to ask me about maps: topographic maps, military maps, mining maps and other information related to the terrain of the province. I couldn't sustain his illusion. I decided to be honest with him.
"I'm sorry," I said, "I'm not from Philvolcs. I'm a journalist."
I showed my press ID. Everybody looked at it as if seeing a photograph of Ho Chih Minh.
"But we were told," Comrade John said, "that you were from Philvolcs."
"No," I said. "They mistook my camera and tripod for a volcano scientist's equipment."
"So, what are you filming?" he asked.
I told him that I had filmed Mulawin the day before, cutting bamboos. He asked me if I had filmed any particular path, road or place. I assured him immediately that I had only filmed Mulawin doing his daily chores.
Comrade John's men (and Comrade Mary) are already dozing now, their feet stretched toward the fire. Mulawin is still awake; after all, he is the host. He's restless and I sense he's nervous. What if the military suddenly arrives and attacks them here? How could they distinguish combatants from civilians even under a full moon like this?
I am sleepy but I do not want to fall asleep. I am nervous. Comrade John is still in high spirits. This young rebel continues to pester me with questions. He asks about my work, my education, my family, my salary as a journalist, the places I have visited in the Philippines and abroad.
"I have lived with the Aetas," I said, "I ate their food, joined them in their farm work and traveled with them to Mount Pinatubo."
He took notice of the phrase "live with them" (in Tagalog:"makisalamuha sa masa.")
"How did you get this idea?" he asked, surprised, "of living with the masses. How did you learn that?"
"There's nothing special in that," I said. "I just thought it's the best way to make a documentary ? you live the life of your subject."
The chickens roosting on the banana trees start to crow. Other roosters from neighboring trees join one after the other. The fire by our feet has become coals, its glow now fading. Comrade Mark, the frustrated scientist, is already snoring.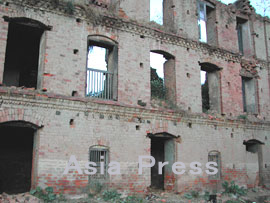 By this time, my rapport with Comrade John was excellent. We had been talking like real friends. So I asked if I could interview him on camera. This digital camera had cost my office \250,000 (approximately US$2,000).
He agreed instantly, but said I should not show his face. I framed him showing only his feet and his Armalite rifle.
I asked him about the peace talks. If they succeed, will the guerillas come into the open? What will they do with their arms? He said that the peace talks have their own purposes but have no bearing at all on the work they are doing in the countryside.
"We have learned our lessons," he said. "Educating the masses, working with them, helping them in their daily activities is the only way to win the revolution. We came here to once again win the hearts and minds of the villagers. We are willing to humble ourselves to gain their trust. We are willing to kiss the earth just to gain their confidence. We have to begin again."
When the sun rises, the village is unusually quiet. No screaming children, no quarrelling husbands and wives. Where have all the villagers gone? I'm getting anxious about my safety, and the safety of my equipment and ten hours of footage. I am most concerned about my Pinatubo films. I cannot afford physically or financially to spend another week journeying to the peak of the volcano. During the day, the guerrillas make their rounds in the village. I take this chance to hide my footage and exposed films separately in my three bags.
I spent the whole day helping Mulawin and his wife prepare and serve food and Nescafe to the guerillas. I gathered banana blossoms, shredded them before Mulawin's wife cooked them. The rest of my time, I sat under the banana tree making three pairs of bamboo chopsticks. In the evening, the visitors tried to gather the whole villagers for a 'teach in' but the people were nowhere to be found. Only Mulawin and his relatives were left to listen to them. I was not allowed to join them.
Mulawin and his wife are not happy with what is happening. They have become hosts to unwelcome guests. They have work to do. Mulawin has to go to the neighboring hills to get his products for the next market day. He also has to gather more wood and bamboo for the new house he's about to build. His wife has to wash their clothes in the river; she has to wash her kids, too. But what worries her most is that the half-sack of rice they bought last week is quickly coming to its end. She has not had a happy face all day.