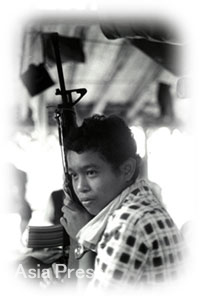 I took the opportunity to talk to some of the guerrillas: the youngest members, Comrade Mary and Comrade Mark. I did not have confidence to talk to the Aeta rebels. They were reticent and looked mysterious to me. Comrade May is 18 and has been a guerrilla for two years now. She is known in the group as 'the doctor.' That afternoon, I had watched her dress a villager's wound. Others also came to ask her for tablets. And Mulawin told me she treated a child bitten by a dog. I asked her how she became a guerilla.
"I joined the revolution because I want to serve the people. I could have been a nurse working in a hospital if I wanted it, but I took a different path," she said.
"Apart from serving the people, what other reasons do you have?"
"I'm from this province. I like working with my own people," she said.
Comrade Mark, seating beside her, was very eager to speak.
"I joined the movement because I want to change our society. I want to end the exploitation of the ruling elite against the Filipino masses."
"Apart from serving the masses and exploitation by the ruling elite, is there any other reason that motivated you to become a guerilla?" I asked.
"What do you mean?" they asked almost simultaneously.
Not far away, Comrade Joshua, one of the Aeta rebels, was toying with Mulawin's pickaxe; digging the ground, picking the grass. He had been listening to our conversation.
"Could you repeat your question?" he asked, dropping the pickaxe and coming closer. "Why did we join the revolution?" His voice was high and he seemed to be offended by my question.
"We have no other reason," he said, his voice threatening. "We joined the revolution because of exploitation: exploitation by the imperialists, by the capitalists, by big landlords, by bureaucrats-capitalists, and by the ruling class. Exploitation is the only reason, there's no other."
Comrade Joshua often talks to Mulawin. He tries to speak in Zambal but it is obvious he is not fluent in their native language.
Comrade John, I feel, is a lot friendlier. He comes to talk to me every now and then. He said he likes Japanese culture.
"Do you like bonsai?" he asked. "I can make you one."
"That's very nice of you," I said. "But I'm sorry, I don't like bonsai."
"Why?" he asked, bewildered. "Why don't you like bonsai?"
"Bonsai," I said, forced to give my opinion, "is a demonstration of man's desire to conquer nature."
"How could that be?" he asked.
"When you make a bonsai," I said, "the plant painfully obeys your command. She follows your order because you have twisted her arms and legs. She follows your ego."
He argued: "But the objective is to create beauty, to create a living replica of a living tree."
"Maybe you don't need to," I said boldly. "Because the moment you deliberately stunt the growth of a tree, you violate the very essence of that being. How could there be beauty in that?"
"Okay," he said moving away from our discussion. "Let's talk more about this when you come and visit our guerilla front. There you can make a good documentary about the longest-running Maoist-Marxist-Leninist guerrilla movement in the world."
"But remember, when you go to Japan, please get me a set of acupuncture needles and a military compass," he reminded me.
I said, "I'll try."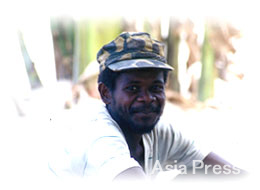 A new group of guerillas, I hear, is arriving tonight. This group has conducted a meeting in one of the big villages near the town. And when one of their couriers arrives early in the evening, he reports that close to 300 people attended. The meeting was presided over by Comrade Jude, their highest leader.
Just after supper, Comrade Jude's group arrives. There are about ten of them. Two are young women. They are all in combat uniforms and are fully armed. Mulawin and his wife have to serve them food and coffee. But they brought with them some rice. While are were eating, Comrade Jude notices me.
"Let's eat," he offers. He is eating with his hands.
Other members, too, notice me. The two girls have short hair, muscles, and a certain roughness of attitude. They start to ask me questions right away. The same questions as yesterday. I give the same answers.