2013/December/11
Written by PAEK Chang-ryong, a defector reporter.
Recalling all pictures of Jang to erase him from national memory
Following the highly publicized announcement via North Korean Central TV on the arrest of vice chairman of the National Defense Commission, Jang Song-taek, a series of articles have been posted on the Korean Workers' Party official organ, the Rodong Sinmun.
The campaign is rousing interest as is written as a catalog of criticisms of "Jang's crimes". Through a phone interview with our North Korean reporting partner, it was discovered that North Korean state authorities have commanded all citizens to recall pictures taken with Jang Song-taek and to write and submit a document of self-criticism entitled 'a composition of reflection' (반영문).
Our reporting partner, a ranked official at an administrative institution in a northern city of North Korea, spoke with us via phone on 9 December:
" The authorities are busy recalling all pictures in which Jang Song-taek appears. Any pictures whatsoever, 'whether commemorative or privately taken' are ordered to be submitted."
Considerable numbers of these pictures were taken with local officials since Jang-Song-taek visited many cities and accompanied Kim Jong-un for on-the-spot inspections.
Our reporting partner explained about 'the composition of reflection'.
"Currently, the authorities have ordered all citizens to write and submit their 'reflections' by the end of December. This announcement is conveyed through the People's Unit, to workplaces such as factories and enterprises. (NOTE; the People's Unit 인민반 ; a neighborhood organ composed of residents in every block, down to the lowest administrative unit.)
The composition of reflection is a writing of self-criticism. However, the writing that we are ordered to write this time is a kind of confession".
It is not possible for ordinary citizens to describe 'the crime of Jang and his gang' as it is far beyond the knowledge of the people. It seems that the authorities are trying to observe the reaction of the people, calling for the voluntary surrender of those who are suspected of being related to the 'crimes of Jang'.
The primary aim of the state is deemed to be the prevention of unrest among the people, which is feared may occur after the sudden purge of Jang Song-taek, the number two person in the country and uncle of Kim Jong-un. Through a series of campaigns, the state will strengthen its control over the citizenry by demanding single loyalty to Kim Jong-un.
In August the authorities issued an order to all residents to write and submit a 'reflection' concerning the revised "Ten great principles to establish the mono-leadership system of the party".
Currently, the state is scrambling to erase any political vestige of Jang Song-taek. The influence of the purge will be on a large scale. It is a knife-edge situation in North Korea at this time and may lead to great fluidity in every sector during the course of the liquidation.
### Rimjin-gang ------
-------------------------------------------
(* ASIAPRESS smuggles Chinese carrier mobile phones into North Korea that function in the border area of North Korea. Using these, our North Korean reporters and reporting partners communicate with us on the latest developments. )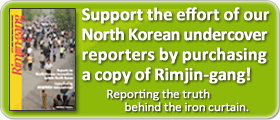 * Editor's notes on North Korean reporters
ALL REPORTS >>>
ARCHIVE(pdf) >>