Rimjin-gang (English Edition First Issue) RELEASE NOTE
FOR IMMEDIATE RELEASE ------ 2010/October


First English Edition of Rimjin-gang News from Inside North Korea ASIAPRESS International would like to announce the publication of the first English edition of Rimjin-gang News from inside North Korea. Rimjin-gang started in Japan and South Korea in 2007 as a periodical featuring reports taken secretly by journalists inside North Korea. In the new English edition, we have translated the most important reports and present them as a book compilation.



Rimjin-gang is unique in that it is based solely on the reports and analysis made by North Korean journalists themselves. All of the articles are based on evidence gathered from photos, film, and audio recordings. This journalism, featuring the true, unadulterated face of North Korea, differs completely from the superficial reporting by foreign government officials and media permitted only in special places like Pyongyang.

Our reports capture the North Korean people's reactions to crucial events, from the 2006 nuclear test to the 2009 currency reform. They include detailed descriptions of the informal market that has come to support the lives of the common people, as well as an analysis of its social significance. The compilation contains all aspects of modern North Korean society, from politics and economics to fashion and daily life.


The hardcover English edition of Rimjin-gang is almost 500 pages long and contains over 200 exclusive photos. It should serve as an indispensable resource for North Korean analysts, researchers, and policy makers.



Rimjin-gang is the product of courageous journalists willing to risk their lives inside North Korea. That means that the growth of our publication leads directly to the growth of North Korean journalism. We ask that you please help support this historic effort of the North Korea people by purchasing a copy of our publication.


Recent articles on Rimjing-gang can be found at the Wall Street Journal, The Nation, the Japan Times and the Economist.

For purchasing from outside Japan, the price is 5,000 yen plus 1,000 yen shipping(Total 6,000 yen) to the United States ($50 USD at current exchange rates). Additional shipping fees will be waived for additional book purchases. All major credit cards and PayPal are accepted. Purchase Rimjin-gang >>>


For more information, please contact:
Rimjin-gang Editorial Staff/ ASIAPRESS Publishing
CONTACT >>>


ASIAPRESS INTERNATIONAL: Based in Japan, ASIAPRESS is a top-class leader in reporting on North Korea. Over the last 10 years, it has delivered a long list of breaking North Korea-related news stories to television and media throughout the world. https://www.asiapress.org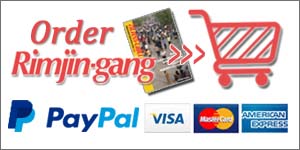 * Editor's notes on North Korean reporters
ALL REPORTS >>>
ARCHIVE(pdf) >>>