North Korean authorities have launched a sweeping crackdown on remittance brokers, intending to wipe out the phenomenon of North Korean defectors in South Korea, Japan and China sending black money to their families who remain in North Korea. Under the direct orders and instructions of Kim Jong-un, a special crackdown team was sent from Pyongyang to a border city with China in June, and many residents are being investigated. On June 10, a reporting partner who lives in Hyesan City in the northern region of Ryanggang Province reported to ASIAPRESS (Kang Ji-won).
◆Large amounts of money sent from North Korean defectors' families living in Japan, South Korea and China
The number of North Korean defectors who have entered South Korea totals over 33,000. Many of them send money through brokers to their families and acquaintances who remain in North Korea. In addition, they send living expenses and defection expenses to bring them to South Korea through underground channels.
The brokers responsible for the illegal remittances form teams within China and North Korea. Included in the illicit remittances are smuggling payments and other payments. Overseas Chinese and trading company employees who travel between China and North Korea also bring RMB into North Korea. In fact, if you are in an area close to China, you can place an order by phone and have it delivered within a few days. To give a rough estimate, if 5,000 people from Japan, South Korea, and China send 1,000 USD a year to North Korea, that's 5,000,000 USD. This is not a small amount.
The North Korean authorities have been eager to shut down the smuggling routes to South Korea that have been entrenched for about 20 years, but have been unable to eradicate them. Since the Chinese border was closed last year in response to the coronavirus, brokers' activities have been slow. Remittance fees used to be 30-40%, but recently 50-60% has become the market rate.
◆"South Korean agents are painting Chinese banknotes with coronavirus and sending them."
According to our reporting partner, at a recent meeting for residents, Kim Jong-un's "policy" of eradicating illegal money transfers was presented, and the following explanation was given for the dispatch of the crackdown team.
"The residents of South Korea have submitted a letter claiming that South Korea's 'Agency for National Security Planning' is painting Chinese banknotes with the coronavirus and sending them into the country, and that the 'kogangkung' (brokers) responsible for this are traitors and should be strongly punished. In response, Kim Jong-un directly ordered a crackdown."
※The "Agency for National Security Planning" refers to the former South Korean intelligence agency, the National Security Planning Department, which is still notorious in North Korea as an agency responsible for terrorism and plotting. It was renamed to the National Intelligence Service in 1999.
According to our reporting partner, the main investigation targets are households with family members who have fled to South Korea and those who have enough to live on.
"They say that life is hard for everyone because of coronavirus, but those who are eating white rice and meat are doing so because they have questionable income. So, the residents are asked to report suspicious people, and many are summoned and questioned about the source of their money.
Since this is Kim Jong-un's direct project, there is no mercy in the investigation, no matter who the senior official is. So many of them are grieving, wondering how they can survive if they are cut off from the money sent by their families in South Korea and China," said a reporting partner.
Since the beginning of June, the authorities have tightened controls on the use of foreign currencies, and the actual value of the won has risen by 33% against the RMB and more than 15% against the US dollar compared to the end of May. It is believed that this action is part of the control of foreign currencies.
※ASIAPRESS contacts its reporting partners in North Korea through smuggled Chinese mobile phones.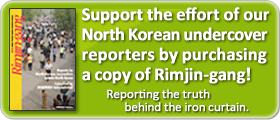 Editor's notes on North Korean reporters
ARCHIVE(pdf) >>
DPRK MAP >>