2014/May/16
Written by PAEK Chang-ryong, a defector reporter
City on high alert, although still unclear who is responsible for attack
Our North Korean reporting partner has brought us information via a phone conversation made on 14th May that an attempt was made to blow up the statue of Kim Jong-suk. It was reported that this failed attempt occurred last week in the city of Hoeryong, North Hamkyung Province.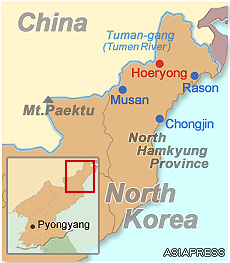 "The explosive device was set directly behind the bronze statue of Kim Jong-suk, in Hoeryong. The guards found this device before it was detonated. As a result, the whole of Hoeryong city is now on high alert, with all traffic subject to searches. There are police officers stationed all along the roads, at 10 meter intervals."
All residents of the town are required to show their ID card, and any suspicious persons are questioned and required to have their background checked. The authorities are maintaining a lockdown on the area.
Our reporting partner told us that no one has been arrested yet, though it has been said that a suspicious figure was captured on security cameras monitoring the area.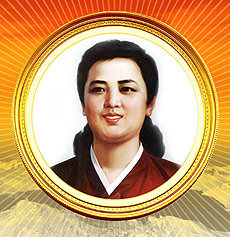 Kim Jong-suk is Kim Il-sung's first wife, and the mother of former leader Kim Jong-il. Hoeryong is her hometown and it is well known, within North Korea, for the large bronze statue of Kim Jong-suk posing with a bunch of azalea.
Details of the bombing attempt as yet unclear.
In North Korea, the authorities often intentionally fabricate security incidents to raise tensions and justify enforcing security restrictions over the populous.
As such, the authenticity of this attempted bombing is not clear, and is it not yet possible to verify whether it was a genuine attack or a fabrication by the state authorities. Nevertheless, the atmosphere of city is tense and people are feeling anxious, with little idea as to what may happen next.
### Rimjin-gang
(* ASIAPRESS smuggles Chinese carrier mobile phones into North Korea that function in the border area of North Korea. Using these, our North Korean reporters and reporting partners communicate with us on the latest developments.)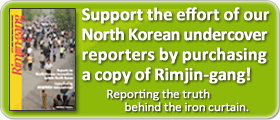 * Editor's notes on North Korean reporters
ALL REPORTS >>>
ARCHIVE(pdf) >>