2015/December/11
Edit by PAEK Chang-ryong, defector reporter, Rimjin-gang
<This article first appeared in the Korean and Japanese edition of Rimjin-gang on September 2015>
Musan mine located in North Hamkyung Province is the largest mine in North Korea. It has been in full-operation in order to export the iron ore to China, the largest resource consuming country. The amount of exported iron ore is presumed to be U$330,000,000 last year.
The mine, as a state-managed enterprise which currently receives the state-level investments, is one of the major sources for earning the foreign currency for North Korea.

At the end of August, one of our North Korean reporting partners in Musan County told us that embezzling and selling the fuel for the mine equipment to transport and excavate in the black market is rampant these days.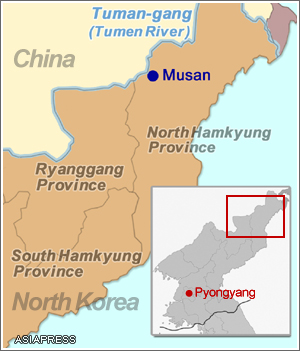 Following is the phone conversation between our defector reporter Paek Chang-ryong and reporting partner in Musan.
Paek: How is the price of the fuel in your region?
Partner: 1 liter of gasoline is around 14,000 NK won. Diesel is around 5,000, it's relatively cheap because Musan mine is near from here.
(NOTE: Actual local currency rate is 1 US dollar = around 8,200 NK won)
Paek: According to the information from various sources, the price of 1 liter diesel is around 8,000 to 9,000 NK won in other regions.
Partner: The state provides the priority fuel for vehicles in Musan mine. When there is enough fuel supply, the price in the market declines, and the opposite when supply is short. There are groups of people coming from provinces of Ryanggang, South Hanmyung, and Chongjin city of North Hamkyung to Musan County to buy the fuel and bring it back to their regions.
Paek: Does it mean that when the fuel is delivered to the mine, some individuals embezzle it and sell it to the market?
Partner: Yeah, that's right. People who work in the mine always puts a kind of special made container on their waist which fills 4 to 5 kilogram of fuel at one time whenever they find the chance to steal. Another method is to get oil from fuel tank of 45 ton dump trucks used in the mine secretly at night by bribing drivers with money. They use plastic bags in their back packs to fill the oil.
Paek: Individuals can't sell the fuel publicly, right?
Partner: Right. But police officers also know this and they get bribes too. It won't be such a serious problem, if only dealing with the embezzled fuels. 4 to 5 persons make a team for this illegal transaction. They buy the stolen fuel from the individuals, and bring it to different locations such as Chongjin and Hyesan. They sell it in a barrel.
Paek: Is this such a large scale business?
Partner: Yes. In the house of people who engages in this business, for example, they have special place to keep tons of diesel fuel.
---------------------
This example shows how people try to survive and the state-run facilities are ripped-off in North Korea.
*** Rimjin-gang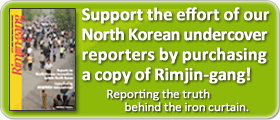 * Editor's notes on North Korean reporters
ALL REPORTS >>>
ARCHIVE(pdf) >>