◆ Water shortage caused by regional power outage
According to a reporting partner living in the northern province of Ryanggang, the number of typhoid patients across the region has been sharply on the rise since June.
Speaking with ASIAPRESS on June 7, the reporting partner said, "Cases of typhoid were observed in late May but, since June, have shot up dramatically. According to the official quarantine agency, about 10% of residents in Hyesan City's local political units have developed the disease. However, there have been no countermeasures, with residents simply recommended to go to the hospital to be vaccinated. They still haven't even isolated the patients."
Typhoid is transmitted through contaminated drinking water and food, with food and water contaminated by the feces or urine of infected individuals a typical source of further infection. As such, the disease is typically endemic to underdeveloped regions with poor sanitary conditions.
Currently, most households in the northern region of the country are not receiving power and are unable to operate their pumps.
The reporting partner explained the situation in Hyesan City, "People can get water from the tap once a day, at best. Some areas do not receive water at all. That's why there are so many people collecting drinking water straight from the river."
In late November of last year, typhoid was prevalent in Hoeryong, North Hamkyung Province, and Hyesan, Ryanggang Province, leading to many deaths. As such, there are a growing number of households that are buying water from local businesses, rather than taking the risk of contracting typhoid by drinking dirty water. (Kang Ji-won)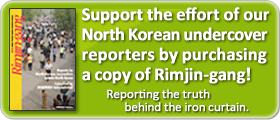 Editor's notes on North Korean reporters
ALL REPORTS >>>
ARCHIVE(pdf) >>
DPRK MAP >>