The plight of North Korean residents is worsening. In order to block the influx of the coronavirus, the border was closed at the end of January 2020, almost completely stopping the flow of goods and people, and strict quarantine measures were taken to control the movement of people and to "isolate suspected cases." Although the spread of coronavirus within the country has been prevented, the shortage of supplies and the stagnation of economic activities have made life very difficult. The import of medicines from China has been halted, and several vulnerable groups who have lost their cash income are facing starvation.
Women are feeling the squeeze of economic hardship in particular. "Many women are becoming stimulant drug dealers or prostitutes in search of cash income," said our reporting partner in North Korea. And now the number of "black-market abortions" appears to be increasing rapidly.
In mid-May, ASIAPRESS asked several reporting partners living in North Korea to investigate the practice of illegal abortions. The following is a question-and-answer session with Ms. A., who was interviewed. Ms. A is a married woman in her 30's who lives in the northern area and supports her family by doing business in the public market. To communicate with her, we use a Chinese cell phone that was smuggled into the country.
◆ Women cannot have children due to hardship
A: Residents are all living on the edge. With the coronavirus restrictions lasting for more than a year, people don't feel like getting married, and there are just a few families willing to have children. They are thinking of waiting until after the COVID-19 pandemic is over and life goes back to normal. Even before the COVID-19 pandemic, the majority of married couples did not want to have a second child, and many young married couples do not want children.
Q: Why is the number of abortions on the rise?
A: It's partially because people don't use contraception properly, but the main reason is that we don't have proper contraceptive devices in our country. In the past, women were sterilized in hospitals, but now that the border has been closed (due to coronavirus), there are no contraceptive devices or medicines are coming in from China.
Q: Why don't they use condoms? Why is contraception so neglected?
A: In North Korea, birth control is mainly done by women. The surgery involves inserting a "kori" (a female birth control ring). Most men have never touched or seen a condom. Men try to have sex without thinking when they drink, so it is just women that have a hard time.
◆"Accidents" among unmarried couples are on the rise
Q: Can't the hospital perform abortion procedures?
A: Yes, it is possible. But there is a shortage of medicine everywhere, and you have to wait a long time. Even in hospitals, you have to pay money to the doctor to get it done. One of my acquaintances, who was pregnant for the second time, asked the hospital to abort her pregnancy because she was having a hard time living due to coronavirus. She had to pay the doctor a gratuity of 20 to 30 RMB- they don't do it for free.
※1 RMB is about 0.16 USD
※Originally, the medical system in North Korea was utterly free, but it collapsed in the 1990s, and people now have to pay cash to receive treatment.
Q: Why is the number of illegal black-market abortions increasing?
A: It's because some private, black-market places do it better. Also, there's an increase in the number of pregnancies among (unmarried) young girls. Recently, many young girls have "accidents" and get pregnant, but to avoid rumours and ill health, their parents go with them and have the procedure done secretly in a private home.
※In North Korea, there is a strong tendency to regard pregnancies by unmarried women as bad and impure. Hospitals do not accept sterilization for unmarried women, and parents cannot make the request for their child.
◆Who performs black-market abortions? How much does it cost?
Q: Who performs the black-market abortions and how?
A: Most of the time, retired and current obstetricians and gynaecologists do it in private homes in hiding but, because it's an excellent way to make money, even nurses and people who have only worked in hospitals for a little while can do it. Sometimes there is a lot of bleeding or an accident. Even in such cases, they only give antibiotic injections. To avoid detection, the surgery is done at dawn, late at night, or in the quiet of the day. There is usually no anesthetics given by injection.
I asked a doctor who was doing the surgeries secretly and he told me that he operates on at least one person every day, and sometimes as many as 50 in a month. He is an obstetrician and gynaecologist at a hospital. He even has a special surgical bed in his house and antibiotics and nutritional supplements that are not available at hospitals. He said he could get people aborted as soon as they wished. He was more affluent than the CEO of a trading company. He said his surgeries are better than those done at the hospital- if patients can pay for it.
Q: How much does it cost?
A: It used to be about 30 to 50 RMB, but after the COVID-19 pandemic, it is about 120 to 150 RMB. If you want to get the injection of an anaesthetic and stay overnight to see the progress, it is 200 yuan. When an unmarried daughter gets pregnant, the parents are worried, so they try to pay more money to do it safely. Since the placenta is used to make Chinese medicine, some traders sell placentas for about 100 yuan. Some people only want the placenta of a healthy person because it is effective against all diseases.
Q: Don't the authorities crack down on this?
A: Of course, they crack down on illegal surgeries, but they don't catch the people who are working with officials.
Q: What about those who don't have enough money?
A: According to the obstetricians and gynaecologists who do the black-market surgeries, they do not accept credit, so those who do not have enough money come take on a debt. Some people pay only 50 RMB up front and pay the rest later.
"I feel so sorry for North Korean women."
In the Interview, Ms. A repeated this over and over again. (ISHIMARU Jiro)
Related Article<Interview with a North Korean woman (2) > An Interview with a North Korean Woman on the Unrestrained Sexuality of Young People and the "Hallyu Craze"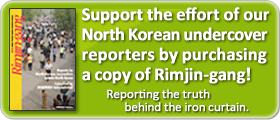 Editor's notes on North Korean reporters
ARCHIVE(pdf) >>
DPRK MAP >>