2015/June/15
Report: PAEK Hyan, North Korean reporter, Rimjin-gang
Edit: PAEK Chang-ryong, ISHIMARU Jiro
UN medical apparatus widespread in medical underground
The "Free healthcare system " is ostensibly one of the founding tenants of the North Korean state system. However, in reality, free healthcare long ago disappeared due largely to economic hardships and now exists only in the state propaganda slogans. Rimjin-gang's North Korean undercover reporter, PAEK Hyan, reports the reality of the underground medical system:
Ordinary citizens are required to pay fees for treatment whenever they are sick. With the exception of the families of ranking officials, it's a user-pays system, with the sick forced to buy the medicine they need each time. Meanwhile, inpatients are required to pay an extra doctor's fee. This is the reality of the North Korean healthcare system. The state doesn't sell cheap medicine and carries out crackdowns on the private drug trade because the whole thing is supposed to be a free. So people are forced to buy the drugs they need secretly, on the black market. The problem is that they don't know how to take these drugs safely.
The misuse of medication sometimes leads to fatalities. Added to this is the fact that hospitals in the countryside don't have enough basic medical equipment such as sphygmomanometers or thermometers. There are also a number of hospitals that can't afford to offer the patients a proper diagnosis of their condition.
Pregnant women are also confronted with similar problems when they go to hospital for a medical checkup. When it comes time to give birth, some women opt to pay money and give birth in the home of an illegal 'birth assistant'. The reality is that hospitals often lack the equipment required for these procedures.
Last October, ASIAPRESS North Korea Reporting team, with the help of our reporting partners, carried out research into how medical apparatus and medicines are circulated and sold in the North Korean markets. One of our members, reporter PAEK Hyan, took several pictures of medical apparatus in the underground markets in a provincial city. She told ASIAPRESS that the medical apparatus she photographed had been embezzled from United Nations relief.
Our reporting team further considers the possibility that relief goods from other foreign aid organizations are among the embezzled apparatus. At this point, however, there is no doubt that a considerable amount of foreign medical aid - medicine and apparatus - is being sold in the North Korean underground markets. The following is a price list of apparatus and medicine used for "paid" childbirth in the homes of individual birth assistants, as researched by PAEK Hyan.
PAEK Hyan explains that all apparatus and medicine, except for injected medicine and women's sanitary products, were embezzled items from UN relief. This means that medical relief from the international community, donated to improve the health and treatment of North Koreans, is being sold in the underground markets.
Fatal private abortions
A female defector in her thirties, who escaped from North Korea in 2013 told us, after seeing PAEK Hyan's report;
"Home childbirth apparatus is commonly used for illegal abortions. Women often don't want to give birth since many of them experienced the Arduous March [a period of great social turmoil in the late 1990s]. But as the state encourages childbirth, hospitals are reluctant to perform abortions unless there is a serious need. As a result, illegal abortions have become widespread."
She further added;
"Some of the people who offer illegal abortions for cash have no medical certificate and, in many cases, the apparatus is not sterilized. I have seen a woman die because of a failed abortion."
Many ordinary North Koreans are unable to receive adequate medical services under the so-called "free healthcare system". However, the North Korean state is still strident in its efforts to maintain the failed health and welfare system. The state should be aware of the realities of the broken health system and admit the failure of its "free healthcare". It is extremely urgent that the state establishes a practical and effective healthcare service for the North Korean people.
*** Rimjin-gang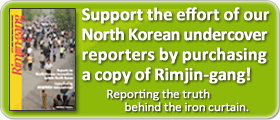 * Editor's notes on North Korean reporters
ALL REPORTS >>>
ARCHIVE(pdf) >>