The UN Security Council adopted 'Resolution 2270 (which sanctions North Korea)' on March 2, in regards to the nuclear test and ballistic missile launching by Kim Jong-un regime. It is regarded the most severe sanction. China, the biggest trading partner with North Korea, promised that they would observe earnestly the resolution. ASIA PRESS reports the effects of international sanction on North Korea by research on markets at various locations in the country. The following reports are on recent price trend compared to the ones before the nuclear test. (ISHIMARU Jiro)
◆ Specifics about research
ASIA PRESS has covered North Korea with the helps from reporting partners in the country for ten years.
Even if North Hamkyung, Yanggang, North & South Pyongan, Kangwon Provinces and Pyongyang are coverable, frequent contacts are usually made with the ones in the northern part of North Korea. There are two ways of communication; either the cooperator or reporting partner comes out from North Korea to China for a business trip, or uses Chinese mobile phones provided by ASIA PRESS.
As it is now known that the state ration system has been collapsed in North Korea, most of the people procure foods and everyday items from market with cash. Chinese RMB, USD, and EURO are used along with North Korean Won. Chinese RMB is a major foreign currency near Sino–North Korea border area, while EURO and USD are commonly used in Pyongyang.
Exchange rate for foreign currency reflects actual rate. The value of North Korean Won is decided by not only the fluctuation of US Dollar but also by the fluctuation of Chinese RMB in the international currency market.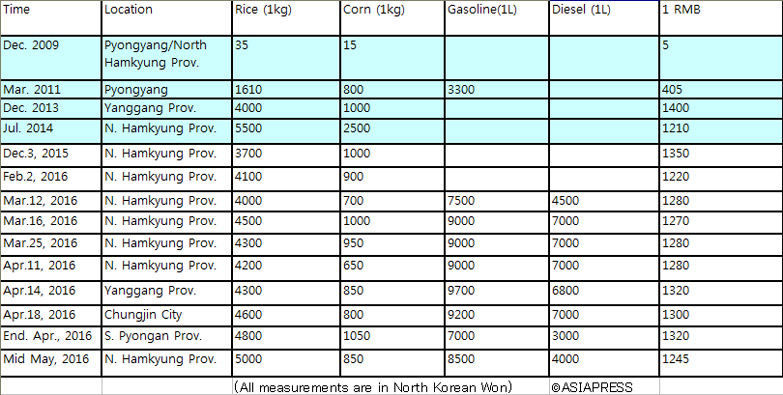 There has not been much difference among the regions on prices of basic daily items during the last several years. The industrial products are mostly imported from China. The cities close to China, like Shinuiju, Hyesan and Nasun, show cheaper prices compared to other regions. Similarly Chungjin, and Pyongsung, as distribution hubs, have cheaper price index as well. It is because the transportation cost rose and the middleman margin was added. The prices of staple food, such as rice and corn, show little difference.
In Japan, ASIA PRESS seems like the only news media who reports the trends of price indexes in North Korea regularly. Daily NK is listing the same data on their website in South Korea. Their data of price for rice differs from our data by 20%.
Concealment of the sanction by the authorities...