The Real Coronavirus Situation in North Korea (Part 1): Kim Jong-un Admits to Outbreak >>
◆ "The country can't produce thermometers nor properly disinfect"
Turn the clock back about 7 months to when Kim Jong-un made startling remarks at the expansion meeting of the Political Bureau of the Party Central Committee on February 27, more than a month after the Chinese border was sealed. The startling remarks were contained in the internally-disseminated documents on ''Comrade Kim Jong-un's Words at the Expansion Meeting of the Political Bureau of the Party Central Committee on February 27"- documents which were designated "Top Secret".
Kim Jong-un used some surprising language- especially when deploring the country's poor quarantine system. Examining the "Top Secret" documents, let's look at some of what he said.
"Even countries that say they have strongly established quarantine capabilities and sufficient technological resources in the health sector have been unable to address this new type of coronavirus. If the virus enters our borders it will cause a greater disaster than in any other country."
"The laws and protocols regarding emergency quarantine must gain greater awareness in order to prevent coronavirus infection. The national quarantine system and the protocol for its implementation are not in accordance with this crisis. The same goes for our resources and technology."
"Our people wear towels or masks made from cutouts."
"Instead of disinfectant, we're promoting quarantine work and disinfection by burning mugwort."
"We don't have enough proper body temperature readers in our country."
At the time, it would have been difficult to track infections due to insufficient PCR diagnostic kits. If coronavirus were to become prevalent in Pyongyang, the People's Army, construction mobilization organizations, and perhaps even the entire system could become unstable and unable to support itself. That is why the North Korean authorities take such a harsh approach towards isolation of "suspicious cases." Even when people simply display symptoms of a cold, entire families and neighboring residents are banned from leaving their homes for around three weeks. These quarantine efforts have been enormous and have included 24-hour watches to make sure whole areas are blocked off.
◆ Preparing for economic hardship and deciding to block the source
A major national coronavirus countermeasure reflecting such consciousness of the crisis came out on April 11. It was a joint policy decision of the Party Central Committee, the Government Standing Committee, and the Cabinet. ASIAPRESS succeeded in obtaining the relevant 6-page "Policy Paper", also designated 'Top Secret'. It's main points are outlined below:
"In response to the ever-worsening global quarantine crisis and the enemy's fierce maneuvers to spread the coronavirus among us, the top priority of our party and nation is to thoroughly prevent the influx of the coronavirus and protect the safety of the people."
"Until the coronavirus infection can be controlled globally, the government will completely block the border, the skies, and the seas, and boldly adjust major construction targets that were originally planned to be completed by the 75th anniversary of the establishment of the party. Blocking borders and restricting imports from other countries will cause considerable disruption to economic development and people's lives, but we must turn our anger into a blessing."
One must take note of the absurd accusation that South Korea, the U.S. and other enemies are trying to spread the coronavirus to North Korea. In addition, it is important to note that, with the decision to completely block itself from the outside world, the authorities stated that they will drastically review the timelines of planned national construction projects. With this basic starting point, the following decisions were made:
"The Korean People's Army General Staff, the Ministry of National Security, and the Ministry of People's Security and other relevant units will completely block the border, skies, and seas through to the end of this year."
"All units (including armed forces, military units, and special units) will completely ban the import of goods that can be produced domestically in North Korea."
"All sectors and units will absolutely obey the command and protocols of the Central Emergency Response Command and, with military law enforced, acts of illegally bringing in supplies will be strictly punished."
"This year will be designated as the 'Year of the Buffer in Economic Construction', and among the important construction targets planned for the 75th anniversary of the establishment of the Party, only certain [redacted] targets will be completed this year, while the others will be greatly adjusted."
Similar to martial law, a strict quarantine policy has been established, giving the Central Emergency Response Command powerful authority. Meanwhile, smuggling activities which could pose a risk of bringing in coronavirus infections from outside the country are now subject to severe punishment under military law. (ISHIMARU Jiro)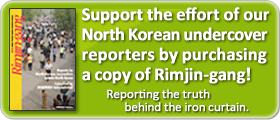 Editor's notes on North Korean reporters
ALL REPORTS >>>
ARCHIVE(pdf) >>
DPRK MAP >>