According to a local reporting partner, speaking with ASIAPRESS on September 8, damage caused by Typhoon Haishen has completely paralyzed railway service from Ryanggang Province to North and South Hamkyung Province. With tracks swept away by flood water, it will take a considerable amount of time for the railway to return to normal operation, especially as railway personnel are restricted due to coronavirus countermeasures.
(Kang Ji-won)
Q: What damage did Typhoon Haishen cause to Ryanggang Province?
"Hyesan City did not suffer much damage, but it was said that there was a lot of rain in Unheung, Baekam, and Gilju, Eorang, and Eodaejin in North Hamkyung Province, which caused the railroad tracks to be swept away. The lines from Hyesan to South Hamkyung Province have all been shut down. People from local organizations and businesses were mobilized to restore the lines but the quarantine command center blocked the orders. Due to the coronavirus countermeasures, the recovery work has instead been given to local military personnel. It looks like it will take some time."
Q: Pyongyang decided to send a Worker's Party construction brigade to the area for the restoration but Hyesan City could not dispatch the workers due to the coronavirus measures?
"The recovery work cannot be carried out for days because the quarantine command center must give approval for personnel to be dispatched. They will only be dispatched if an officer from the quarantine center is sent to accompany them and supervise."
Q: So will local workers end up completing the restoration work without outside support?
"Yes. I don't know how it is in other areas but citizens living close to the Chinese border in places like Hyesan are not allowed to leave to other regions. It is said that a construction brigade will be formed up by local military personnel in order to complete the repairs. By the way, did you know that the Party Secretary of South Hamkyung Province was dismissed?"
※ Kim Jong-un dismissed the Party leadership of South Hamkyung Province on September 5, citing their failure to prevent damage from the previous typhoon.
Q: That was reported here as well. What was the reaction in the North?
"There were many complaints among officials. Due to the countermeasures dictated by the quarantine command center, the Party organizations had no room to operate and were then punished for the typhoon damage. The same thing is happening here as well. The Party organizations were asked to participate in the recovery work but were prevented from mobilizing manpower due to the prioritized quarantine measures."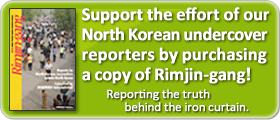 Editor's notes on North Korean reporters
ALL REPORTS >>>
ARCHIVE(pdf) >>
DPRK MAP >>