The North Korean authorities are reportedly selling rice and flour directly to residents and offering no-interest cash and food loans to needy farmers. Meanwhile, short-term food distributions were also provided by some large state-run companies. In addition, large-scale aid by China and Russia appears to have improved the country's food reserves. (ISHIMARU Jiro/Kang Ji-won)
◆ Loans to 'food-short households' in rural areas
Since early spring, the number of 'food-short' households on cooperative farms across North Korea has increased steadily. Indeed, in May, a number of farm workers were reported to be incapable of work due to poor nutrition.
Under normal circumstances, cooperative farm officials would be responsible for countermeasures to support the "food-short households." Generally, officials collect donations from villagers or lend food from the farms reserves for a fee. This year, however, there were too many "food-short households" for the officials' countermeasures to cope. With the farms failing, farmers were forced to desert their work and take to digging up wild vegetables and medicinal herbs to survive.
It was in early July that the authorities made the unusual decision of lending cash and rice to struggling farmers. Reports on this countermeasure first came from farm "A" in Ryanggang Province.
A reporting partner who met with an official from the area said, "This year, there are many 'food-short households' in rural areas and, as the farms could not cope, the authorities dispensed 100,000 won to all households as a 'care package from the Party'. It is said that these interest-free loans were disbursed from the national treasury, with the money to be later deducted from the post-harvest distributions in autumn. Well-off households were not to be forced into accepting the loans but, in the end, all households accepted the offer. I heard that farmers originally thought that they were being given settlements from unpaid distributions last year. I ran into an acquaintance of mine at the market, a farm worker, who had just bought a pair of pants and a 7kg bag of white rice as well as a new pair of shoes as he didn't have any."
※ 100,000 North Korean won is about 12 USD.
Upon receiving this information, another ASIAPRESS reporting partner set out to investigate a farm near Chongjin, North Hamkyung Province in late July. According to the official in charge of the farm, the "food-short households" were given loans of 18-20 kilograms of Chinese white rice and corn prepared by the provincial party committee.
The farm official explained, "All households received the loans from their local authorities. The loan will be repaid 'interest-free' by taking the amount away from the distributions received in the autumn after the harvest. A condition of the loans, however, is that farm-hands must immediately go back to work. People are following this order, as they would be picked up by the authorities if they did not report for duty. Many people from this farm are using the in-kind loans to buy things they don't urgently need or to pay off their other debts. The potatoes will have been harvested by July, so things will get a bit easier in the rural areas. That said, there are many struggling households this year."
Currently, the market price of Chinese rice is around 4,300 won for 1kg, making the 18kg rice loans worth 77,400 won.
ASIAPRESS surveyed two farms but it is unclear whether the support measures were carried out uniformly across Hwanghae Province and the rest of the country.
What is interesting is the source of the food and cash loans. Local reporting partners said that the food was "supplied from China and Russia."
■ The state begins to sell food to residents directly
Meanwhile, state-run 'rice sales offices' across the country have begun selling food directly to residents. Known officially as 'Grain Sales Offices', they are administered by the local governmental People's Committees. Originally, they were referred to as 'distribution centers', however, the food distribution system has long been defunct in all regions apart from Pyongyang. These days, it is up to individual factories and institutions to implement rationing according to their own financial circumstances.
The 'rice sales offices' recently began selling rice at slightly lower prices than those found at local markets. Various reporting partners confirmed that this was possible as "the rice and flour being sold is supplied by China and Russia."
A reporting partner in Musan County, North Hamkyung Province explained, "The 'rice sales office' began selling Chinese rice and Russian flour in early July. If rice is being sold at the markets for 3.6 RMB per kilogram, the 'rice sales office' will sell its rice for 3.5 yuan per kilogram. If flour is being sold for 4,600-4,800 won per kilogram, the 'rice sales office' will sell its flour for about 200 won less per kilogram. However, it is sold in 40-50kg sacks and is not always of good quality. People have to buy the sacks together with their neighbors and share. Unlike in the market, you can't check the products and bargain for them. Musan County residents are impoverished- common people don't have money and few can afford expensive white rice. Most people survive by mixing flour with potatoes to make sujebi noodles."
※ 1 RMB is worth 0.14 USD, 1,000 North Korean won is worth 0.12 USD.
Meanwhile, government rice sales began even earlier in Hyesan, Ryanggang Province. According to a local reporting partner, "Direct sales by the 'rice sales office' began last year. After trade stopped due to the coronavirus and the Chinese rice ran out, the authorities began buying up the food stored by the cooperative farms (food which originally was to be sold at markets to recoup the cost of purchasing agricultural supplies). Recently, the food being sold by the office has been supplied by China and Russia. In my opinion, it seems that the authorities are working against the local civilian markets. Though the rice sold by the 'rice sales office' is often of very poor quality. Customers cannot check the quality of the products before buying and, as the difference in price is not big, most people choose to shop in the market instead."
Aside from earning cash income, it is perhaps the intention of the authorities to restore control over food distribution by utilizing the food aid from China and Russia.
At the end of June, a week's worth of corn rations was distributed to workers of Musan County's iron mines. In mid-July, workers received a week's worth of flour. This flour was said to be from Russia.
◆ Massive food aid from China and Russia?
According to Russian trade data released by the International Trade Center (ITC), Russia exported $7.4 million worth of flour to North Korea in April. These statistics, however, do not show whether the flour was purchased or donated as support.
China also began exporting flour to North Korea after April. According to trade statistics released by China's customs authorities, exports of flour were $1.75 million in April and $9.46 million in May, topping the list in exports to North Korea. The volume was 28,842 tons, and in June it was the second highest export, rising to a volume of 37,210 tons, valuing $1,069,172. Likewise, China's statistics alone do not tell if the exported flour was donated in support or purchased. Also, exports of rice and corn are not shown in the statistics at all.
Though the exact figures are not known, it is certain that China has been providing a large amount of food aid to North Korea since last year. South Korea's JoongAng Ilbo reported on June 21 that China has provided 600,000 tons of rice and 200,000 tons of corn to North Korea. According to the report, the aid was delivered in time for the first anniversary of President Xi Jinping's state visit to North Korea.
In addition, Radio Free Asia (RFA) reported on June 22 that corn and rice are being delivered at night from ships docked at Dandong Port. Above all, people in North Korea recognize that food aid has been supplied by China and Russia.
Although the exact amount of the aid is not known, it is speculated that the state's own supply of food has largely been spared due to the large amount of food aid delivered since April, allowing the authorities to feed soldiers, construction workers, industrial workers, farmers, and those in Pyongyang as a priority.
※ ASIAPRESS contacts its reporting partners in North Korea through smuggled Chinese mobile phones.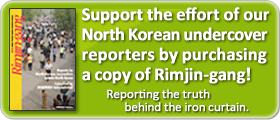 Editor's notes on North Korean reporters
ALL REPORTS >>>
ARCHIVE(pdf) >>
DPRK MAP >>