(Continued from part 1) What is the coronavirus situation in North Korea? Reporting partners from Musan County and Hoeryong City in North Hamkyung Province, as well as from across Ryanggang Province, reported the following:
"Officials are claiming that, 'the coronavirus is not spreading'. Even if you ask a hospital official in secret, they will reply that there are no cases in the region. Rumor has it that the recent outbreak in the southern part of the country has led to deaths, but there is no way to confirm it."
A reporting partner living in North Pyongan Province previously explained, "Because there were many people in quarantine, there may have been an outbreak, but these days things have gone quiet." A reporting partner in Chongjin City, meanwhile, said, "Many people have died of pneumonia but the authorities don't call it the coronavirus. So we can't know for sure."
◆ A cluster outbreak in a military base just south of Pyongyang?
In July, it was reported that soldiers were placed in quarantine at a military base in Sariwon, North Hwanghae Province, south of Pyongyang. This was reported by a reporting partner living in North Pyongan Province, who said their son is enlisted in the affected unit.
The reporting partner is relatively well-off and was able to bribe an officer in his son's unit in order for his son to be able to use a cell phone to call him occasionally. For reference, North Korean men usually serve 13 years of military service.
When talking with his son in early June, the reporting partner heard, "The soldiers are being quarantined because of an outbreak of coronavirus in the unit." Following this discussion, the reporting partner heard no news of his son for more than 20 days, at which point he began to worry and decided to send money to a local military officer to find out more information. The military officer gave the following explanation to the reporting partner:
"All soldiers with cold-like symptoms were quarantined. At first, they were quarantined in the guard post at the entrance of the unit, but as the number of troops increased, they emptied the barracks of the independent platoon and isolated them there. Soldiers are forbidden to go out, not even to engage in training or routine exercises. Soldiers had been mobilized to work on the farms and provide agricultural support, so they may have been infected there."
The reporting partner's primary concern, of course, was the health of his son. When asked if treatment could be provided for those in the son's unit, the military officer gave the following explanation:
"At the moment, quarantined soldiers are being diagnosed not by a military doctor but by a 'hygiene instructor' who takes body temperature readings each day. Even soldiers with severe symptoms have been quarantined without being transported to receive better care elsewhere. Healthy soldiers are only being fed boiled corn and salty soup, while those in isolation are being given white rice. Because of this, some of the healthy soldiers are going hungry and are trying to be put into isolation."
The reporting partner planned to make his way to the Sariwon base himself but said that, due to the coronavirus quarantine measures, he could not be issued a travel pass.
A North Korean defector with experience in military service explained:
"Each battalion in the Korean People's Army is supposed to have a 'sanitary ward' with one military doctor and one 'hygiene instructor'. Usually, if there is an outbreak of tuberculosis or some other disease in the unit, soldiers are sent to the 'sanitary ward'. In severe cases, patients are transported to a military hospital. If severely sick soldiers are being quarantined on a base it may be because they are trapped and cannot be transported."
The defector went on, "What I don't understand is the military doctor not being cleared to see the quarantined soldiers. As there is no cure for the coronavirus it may be their policy to wait and see if the patients heal by themselves. If there are outbreaks in the army, their combat capability would be seriously affected."
Due to insufficient information, it is not possible at this time to determine if there has been an outbreak in the specific unit to which the reporting partner's son is attached. ASIAPRESS will continue to investigate this matter and report on breaking news. (End)
※ ASIAPRESS contacts its reporting partners in North Korea through smuggled Chinese mobile phones.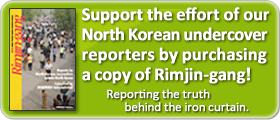 Editor's notes on North Korean reporters
ALL REPORTS >>>
ARCHIVE(pdf) >>
DPRK MAP >>