2014/April/18
(This report first appeared in the Korean and Japanese edition of the ASIAPRESS North Korea report in March 2014. All the information is from that report.)
Written by KANG Ji-won, a defector reporter.
(All pictures were taken by our Chinese staff of the North Korea Reporting Team)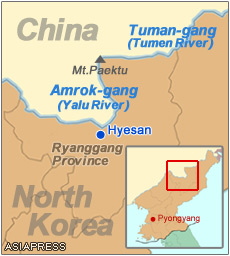 A Chinese staff member of the ASIAPRESS North Korea Reporting Team recently traveled to the upstream area of the Amrok-gang (Yalu River), near Ershiyidaogou in China's Changbai Korean Autonomous County of Jilin Province, which shares a border with North Korea. The area is located in an area of the Amrok-gang where the river becomes narrower. On the opposite side of the river is a collection of mountainous villages lying on the outskirts of Hyesan, Ryangang Province.
When our reporting staff visited the area, the road had been temporally closed and the bus service was suspended due to a heavy snowfall from a day earlier.
The Chinese authorities recently installed a wire fence alongside of the river. Its purpose is to prevent smuggling and the defection of North Koreans across the border.
From the Chinese side of the river, a number of houses can be seen in villages on the North Korean side. However, the chimneystacks of these houses emit no smoke, even at six o'clock on a bitter winter evening.
The silent village covered with snow looked as if it was in the grips of a deep freeze.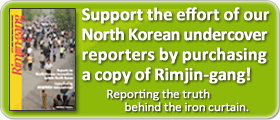 * Editor's notes on North Korean reporters
ALL REPORTS >>>
ARCHIVE(pdf) >>