2014/April/19
(This report first appeared in the Korean and Japanese edition of the ASIAPRESS
North Korea report in March 2014. All the information is from that report.)
Written by ISHIMARU Jiro
(All pictures were taken by our Chinese staff of the North Korea Reporting Team)
Hyesan is a northern border city of North Korea, and the capital of Ryanggang Province. In this part of North Korea the temperature can drop to -30C (= -22F) in midwinter. Across the Amrok-gang (Yalu River), opposite Hyesan, sits China's Changbai Korean Autonomous County of Jilin Province. Approaching the end of the March, parts of the usually thick ice covering the river has begun melting, which heralds the arrival of a late spring to this area. Local women again come to the middle of the frozen river to wash clothes in the freezing water.
TO BE CONTINUED IN PART 3>>>
PART1 - PART2 - PART3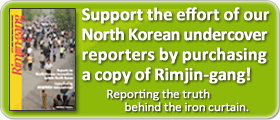 * Editor's notes on North Korean reporters
ALL REPORTS >>>
ARCHIVE(pdf) >>