2014/April/20
(This report first appeared in the Korean and Japanese edition of the ASIAPRESS North Korea report in March 2014. All the information is from that report.)
Written by ISHIMARU Jiro
(All pictures were taken by our Chinese staff of the North Korea Reporting Team)
Our North Korean reporting partner in Hyesan reported on 23th March, via a phone conversation, that tensions in the border areas are again rising.
"At the beginning of this year, a special team was dispatched from Pyongyang, tasked to suppress the smuggling and defections carrying on in the area. Currently, Hyesan is under tight security control. Surveillance on local residents will continue at least until the Day of The Sun (the birthday of the late leader Kim Il-sung, the most important celebration day in North Korea)."
<<< BACK TO PART 2
PART1 - PART2 - PART3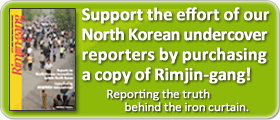 * Editor's notes on North Korean reporters
ALL REPORTS >>>
ARCHIVE(pdf) >>