2013/June/18
Report by Gu Gwang-ho (Original report : Aug, 2011)
<<PREVIOUS - Apartment Construction
This was a high-rise apartment block, and yet it was being built as a rush job, and the location and size of the windows were distorted. The joints between floors were also not aligned. Even if the apartment were completed without mishap, because of the shortage of electricity in Pyongyang it is nothing rare for the elevators to be out of service, and for tap water to be unavailable. One can only wonder what we can look forward to regarding these apartments.
Actually, this situation was completely predictable. Simple calculations tell us that 100,000 apartments means, with 200 apartments to one apartment block, this is a giant construction project to build 500 apartment blocks. But does North Korea currently have enough economic leeway to complete such a project? And what's more, even when the apartments are completed, the only ones allowed to move in will be children or relatives of senior party officials, or veterans who fought in the Korean War or their families.
Ordinary citizens know these apartments have nothing to do with them, so the motivation to work is low. The government has declared that with the 100th anniversary of the birth of Kim Il-sung, this will "open the door to a strong and prosperous nation". But this "grand waste", investing a colossal budget to push forward with an unrealistic project is physically and mentally debilitating for many who are furthest away from the privileged classes.
(Report by Gu Gwang-ho)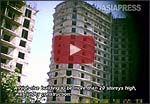 YouTube Rimjin-gang video report
The State Project to Build 100,000 Apartments in Pyongyang for the 100th Aanniversary of The Birth of Kim Il-sung (Reportby Gu Gwang-ho) >>>
Photo Report
PART 1 - PART2 - PART 3 - PART 4 - PART 5 - PART 6 (a) - PART 6 (b) - PART 7 - PART 8 (a) - PART 8 (b)
Gu Gwang-ho is in his thirties and lives in Pyongyang. He started his journalistic activities in 2011 after having training several times as a reporter by ASIAPRESS North Korea Reporting Team. He has made series of reporting in Pyongyang and South Pyongan Province successfully so far. His remarkable video report on starving People's Army soldier in 2011 was aired by many TV stations over the world.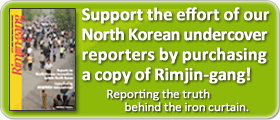 * Editor's notes on North Korean reporters
ALL REPORTS >>>
ARCHIVE(pdf) >>