2011/December/15
Report by Gu Gwang-ho (June, 2011)
Our country's TV news often shows a gap between the rich and the poor in the capitalist countries, lashing out with militant slogans, and always ends up in defending the superiority of socialism.
But the scenes that I witness in every day life are nothing more than a gap or a disparity in the society. The gap lies between the privileged class and the ordinary citizen. Of course the TV and the party papers never mention about this because the gap shall not exist in our country.
Here are some pictures I took recently in the park. It is located in the Taesong District, north-east of Pyongyang. The park is surrounded by greenery. A zoo and botanical garden are in place here. It is known as a recreation area for people.
In the afternoon of a sunny day, a young couple drove right up in a shiny black Mercedes. Both seemed to be privileged. They were dressed up in wedding costumes and began to take wedding pictures.In the corner of the park, unauthorized street vendors were busy with their own business of selling light snacks and foods like bowls of noodles. A man in dark clothes was sitting in silence and kept slurping up his noodles.
In the other corner, I saw a homeless kid picking through the garbage on the ground. It was the trash of a lunch left by a group on a school excursion. It was a contrast for me to see a young couple with gaudy outfits and a shabby-looking man in dark clothes sitting down eating noodles.
There are young couples celebrating their weddings in every country, but we see harsh realities in my country. There are little kids with rag clothes trying to live from hand to mouth picking up food from the garbage. I was filled with heart-rending sorrow to see these realities of gaps.
(Report By Gu Gwang-ho. 2011, June)
Photo Report
PART 1 - PART2 - PART 3 - PART 4 - PART 5 - PART 6 (a) - PART 6 (b) - PART 7 - PART 8 (a) - PART 8 (b)

Gu Gwang-ho is our North Korean reporting partner currently resides in Pyongyang.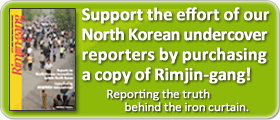 * Editor's notes on North Korean reporters
ALL REPORTS >>>
ARCHIVE(pdf) >>