"We can no longer rely on our government!"

2011/December/12
Report by Gu Gwang-ho (Original report : June, 2011)
People have become used to chronic delays of, or a cessation of, food rations. This has become routine for many years under the harsh economic situation. Even the most favored citizens in our country, the residents of Pyongyang, suffer the denial of rations and wages.
Actually, I would say it is very lucky if people receive rations at all in Pyongyang these days.
I have visited one of the sectors in Moranbong District, north of the capital.
In the small roadside beneath the buildings, a string of women who are unauthorized street vendors were sitting on the ground and busy with their business. They bring various sorts of goods and cater and deal with passersby, mostly those who live in the apartments in this sector.
In this district, the people living here are relatively upper middle class. The goods and foods that these women sell are fruits and vegetables such as strawberries, cucumbers, sesame leaves, and potatoes. These are usually purchased from suburban farmers. Also, homemade snacks and meals like rice rolls with dried laver, sausages called Sunde, and Kimchi pickles can be seen.
Most of these street vendors are women. This is because men are compelled to attend their own workplaces and offices although wages are low and they don't receive food rations there. If they don't appear at their workplace regularly, they will be detained and charged compulsory labor punishments. This is a common sight now in our country is housewives working as merchants and street vendors.
One of the reasons that they do business as street vendors and sell goods on the streets is because they can't afford to pay the market tax. The tax was introduced by the local market administration that officially approves the businesses in the booths at the authorized market.
Though the tax is not heavy, (it costs about 200-300 won a day (around 6US cents), daily earnings are quite small for each merchant. Earnings are around 1,000 - 2,000 won(around 40 - 50 US cents). So even the small amount of tax pressures their income for ordinary merchants.
These street vendors are illegal. Crackdowns take place sometimes but it is a cat and mouse chase.
These women are typical housewives of ordinary families in Pyongyang.
Street merchants on the roadside have become a part of our daily scene. They know they can no longer keep their life by relying on the government. (Report By Gu Gwang-ho. 2011, June)
PART 1 - PART2 - PART 3 - PART 4 - PART 5 - PART 6 (a) - PART 6 (b) - PART 7 - PART 8 (a) - PART 8 (b)

Gu Gwang-ho is our North Korean reporting partner currently resides in Pyongyang.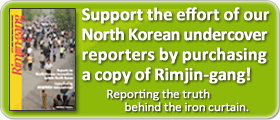 * Editor's notes on North Korean reporters
ALL REPORTS >>>
ARCHIVE(pdf) >>