<Photo Report> - 4
Inspection At The Metro Station Entrance -
"No Shabby Cloths, No Large Luggage!" (Pyongyang)
2011/December/16
Report by Gu Gwang-ho (Original report: June, 2011)
The government often sets up inspection checkpoints at metro stations and prevents persons with shabby clothes and large pieces of luggage from travelling, keeping them well away from the city center. The purpose of this inspection is to depict the showcase city, Pyongyang, as a beautiful and rich capital to the outside world.
I made a video recording with my hidden camera at Pyongyang's north-east metro station this past June. You can see the scenes of inspection at the Ragwon station which is the last stop of Hyokshin Line. (Editorial Note "Ragwon" means Paradise. Hyokshin Line runs in the city's west-east direction. Ragwon is the station at the east end.)
This station is located in the Taesong District, north-east of the city, and functions as the junction for people going to the city center from suburban areas.

Soldiers standing at the entrance checkpoint are the military police of the People's Army. Whenever they find a person with a shabby appearance, wearing a backpack or carrying a large piece of luggage, they stop them at the entrance of the station to prevent them from travelling to the city center.
Many passengers carry a look of resignation as it happens very often. But sometimes we see people express their anger openly which turns into an acrimonious quarrel. When I was shooting the scene, there was a middle-aged man lashing out at the soldier since he was not allowed to enter the station because of his backpack. This inspection is made simultaneously at several stations especially when a special event takes place in Pyongyang such as a foreign delegation's visit. For the ordinary people who necessarily travel to the city for their living, this imperative and autocratic regulation is creating the one of the seeds of dissatisfaction against the government.
(Report by Gu Gwang-ho. June, 2011)
PART 1 - PART2 - PART 3 - PART 4 - PART 5 - PART 6 (a) - PART 6 (b) - PART 7 - PART 8 (a) - PART 8 (b)
Gu Gwang-ho is our North Korean reporting partner currently resides in Pyongyang.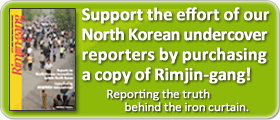 * Editor's notes on North Korean reporters
ALL REPORTS >>>
ARCHIVE(pdf) >>