2013/June/28
Report by Gu Gwang-ho (Original report: Jun-Jul, 2011)

In Pyongyang, attractive young policewomen wearing characteristic uniforms with peaked caps, white jackets, and royal blue skirts are a common sight in many traffic intersections. These officers, bearing whistles and batons, are known for dutifully directing passing vehicles with discipline and brisk efficiency. Any foreigner who visits North Korea is sure to see these classic icons in the capital city.
However, there is more to the story. There are areas in Pyongyang where riding bicycles is forbidden. The purpose of these no-ride zones is to keep the cityscape clean, orderly, and aesthetically pleasing - indispensible elements for the showcase capital.
Yet, for ordinary citizens, the bicycle serves as a vital means for daily transportation.
As a result, precarious games of cat-and-mouse between the traffic police and citizens regularly ensue in these areas. Our North Korean undercover reporter Gu Gwang-ho has captured images of these incidents with his hidden camera on a typical day in the Taedonggang District of Pyongyang.
Photo Report
PART 1 - PART2 - PART 3 - PART 4 - PART 5 - PART 6 (a) - PART 6 (b) - PART 7 - PART 8 (a) - PART 8 (b)

Gu Gwang-ho is in his thirties and lives in Pyongyang. He started his journalistic activities in 2011 after having training several times as a reporter by ASIAPRESS North Korea Reporting Team. He has made series of reporting in Pyongyang and South Pyongan Province successfully so far. His remarkable video report on starving People's Army soldier in 2011 was aired by many TV stations over the world.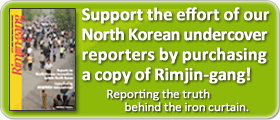 * Editor's notes on North Korean reporters
ALL REPORTS >>>
ARCHIVE(pdf) >>