2013/July/02
Report by Gu Gwang-ho (Original Report - Sep, 2011)
Everyone in Korea knows the Pyongyang Department Store No. 1. It's the number one state-owned department store with the longest and most distinguished history. The store is located in the Chung District in the central part of Pyongyang City.It faces Kim Il-sung Square, where the People's Army soldiers commonly march in parades.
The late General Secretary Kim Jong-il would visit the store for exhibitions of merchandise held once or twice a year, taking the tour to see the products lining the shelves. In this way, this department store was used for publicity, to advertise the fact that our country's "socialism" has achieved economic success. In July 2011, about half a year before his death, Kim Jong-il visited this department store.
After his death in December of the same year, state media broadcast images of employees in tears as they recalled Kim Jong-il in days gone by.
Reporter Gu visited the Pyongyang Department Store No.1 with his hidden camera in early September. Inside the building, the lights were on, and the escalators were moving. In the summer of 2011, the electricity situation was relatively good in Pyongyang.
There seemed to be quite a good turnout of people. In particular, there was a long line at the cigarette sales desk on the ground floor. On asking, our reporter was told that "Ryong-song" brand cigarettes were being sold at 38 won (about one cent using the exchange rate at the time), which was the official price set by the government.
All the other brands were priced twenty times or thirty times higher than this brand, which is the same as prices found at public markets in town.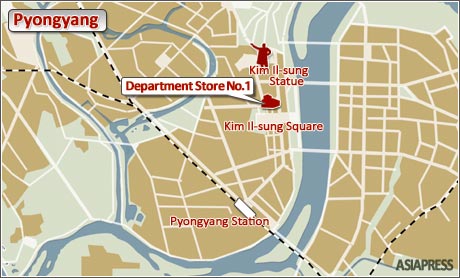 The Pyongyang Department Store No. 1 faces Kim Il-sung Square, where the People's Army soldiers commonly march in parades.
TO BE CONTINUED IN PART 8 (b) >>>
Photo Report
PART 1 - PART2 - PART 3 - PART 4 - PART 5 - PART 6 (a) - PART 6 (b) - PART 7 - PART 8 (a) - PART 8 (b)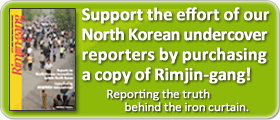 * Editor's notes on North Korean reporters
ALL REPORTS >>>
ARCHIVE(pdf) >>