2013/June/17
Report by Gu Gwang-ho (Original report:Aug, 2011)
In the capital city Pyongyang, a fully-fledged construction boom has been in place since the summer of 2011. This is part of the "Day of the Sun" on April 15, 2012, in other words, part of the "Pyongyang Redevelopment Project" commemorating the hundredth anniversary of the birth of the late Kim Il-sung. The government has declared a "promise" to build 100,000 apartments and give them out to residents free of charge.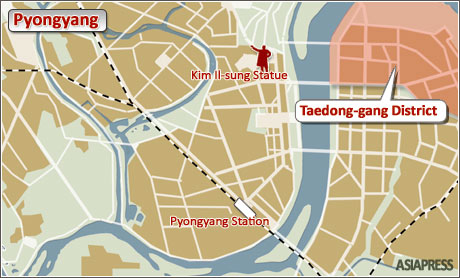 The pace of construction was slow until the spring of 2011. This was due to the fact that despite this being a national project with university students, company workers and even workers from various state institutions mobilized, there has been a shortage of construction materials, and the government has been unable to secure enough food to distribute to the workers. But with the beginning of summer, construction has become busier. The backdrop to this is believed to be prodding by Kim Jong-il, General Secretary (at the time), to meet the deadline of the "Day of the Sun" drawing close in April next year.
In the central part of Pyongyang, high-rise apartment blocks in the midst of construction could be observed in various parts of the city. One hot muggy day in September 2011, reporter Gu, resident of Pyongyang, secretly kept his camera rolling as he headed for a construction site in the Taedong-gang District in Pyongyang city.
At the construction site, perhaps because it was a little past noon, among the construction workers there were people taking a break, or youths who seemed to be mobilized university students engrossed in chatting, or women. I could tell at a glance that the mobilized students were laymen in construction.
On the other hand the brawny men who were working diligently seemed to know what they were doing. Upon being asked, they replied that they belonged to "a foreign construction company". They are "professionals in construction on consignment" for the nation to gain foreign currency, working overseas in countries that have friendly relations with North Korea, taking on construction projects on consignment. At this construction site, they are probably playing a central role in the construction work, giving orders to the laymen who have been mobilized. But despite that, the apartment being built was far from perfect.
TO BE CONTINUED IN PART 6 (b) (+ video on YouTube) >>>
PART 1 - PART2 - PART 3 - PART 4 - PART 5 - PART 6 (a) - PART 6 (b) - PART 7 - PART 8 (a) - PART 8 (b)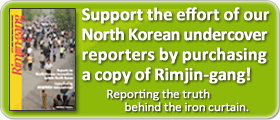 * Editor's notes on North Korean reporters
ALL REPORTS >>>
ARCHIVE(pdf) >>