◎ASIAPRESS rimjingang YOUTUBE playlist
There are public markets in each district of Pyongyang. Reporter, Koo Kwang-ho filmed the lively, inner scenes of the Moran market in the central district of Pyongyang on June 2011.
More than 1,000 sellers are working hard for their businesses. These people are the business owners who have paid market tax to the market management office to secure selling stand with the width of 80cm. As they are not wage earners, they work hard to earn even a penny.
There are plenty of diverse goods including foods, clothes and home appliances. The manufactured goods and high quality fruits are imported from China in the video. They are selling expensive cosmetics and watches that catch the shopper's eyes in the Moran market, which represents the centre of Pyongyang.
It is a reality that most of the residents of Pyongyang do not receive enough rations. Therefore, they struggle to earn a living by doing business. We can watch the power of the market economy supported by ordinary people.
(Prices in the video are those of June 2011)
Footage copyrights : ASIAPRESS The video footage may not be used in any form(copying,selling,renting,distributio­n,screening,broadcasting,webcasting and debunking) without the prior written consent.
RELATED ARTICLE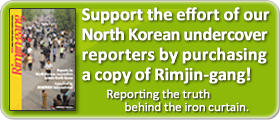 * Editor's notes on North Korean reporters
ALL REPORTS >>>
ARCHIVE(pdf) >>
DPRK MAP >>