Chinese President Xi Jinping visited North Korea on June 20. Meanwhile, in regions along the border with China, emergency orders from the Korean Workers' Party were being delivered to raise the alert status in case of unforeseen circumstances, said multiple reporting partners in Ryanggang Province (Kang Ji-won/ISHIMARU Jiro)
"Let's defend the safety of the Supreme Commander by all means"
This was the title of the emergency order, delivered to the people on June 17. Officials from the Hyesan City Municipal Party Committee and the People's Committee (local government), traveled through the region, holding meetings with local political units to pass on the directive.
The order designated June 18-23 as a 'special security period' and called for "increased vigilance and stronger reporting in order to ensure no incidents come about".
In attendance at one such meeting was a security official from the police who was quoted as saying, "To protect the General [Kim Jong-un's] safety and authority, each and every one of us must keep a keen eye on the border for reporting, not missing a thing."
The Security Bureau (secret police) has stepped up surveillance on its targets as well. The reporting partner said, "An acquaintance living in downtown Hyesan, who had previously been arrested and repatriated from China, said that he travelled to another area for business on the 15th and was surveilled the whole way by the secret police."
The reporting partner continued, "In addition, militia groups such as the "Workers Red Guards" and the "Red Youth Guards" have been mobilized to form a security team with secret police and party guards in order to protect the leader's image, the historic revolutionary sites, and other such monuments in 4-hour shifts around the clock. They are going so far as to mobilize youth groups to patrol the streets."
During important national events, such as a state visit, it is usual for the border area to be heavily guarded. This is to prevent potentially embarrassing incidents or news of defections from spreading. However, it is highly unusual for emergency orders to be issued. This may indicate the level of importance the Kim Jong-un regime attaches to President Xi Jinping's visit.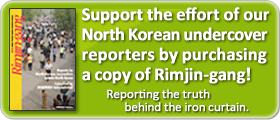 Editor's notes on North Korean reporters
ALL REPORTS >>>
ARCHIVE(pdf) >>
DPRK MAP >>