On April 4, a reporting partner of ASIAPRESS, in a northern area of North Korea, reported that an officer of a border guard unit was arrested and charged with aiding people to defect from North Korea: it seems his execution by firing squad is imminent. (Kang Ji-won)
According to the reporter, the arrested officer is a commander of a rearguard battalion assigned to guarding the Sino-Korean border, near Hoeryong City. He was arrested on March 24 and charged with helping two defectors escape from North Korea.
The reporter said, "The charge was human trafficking,. The officer was arrested because the two defectors were discovered to have entered South Korea. He was transferred to The State Security Department in North Hamkyung Province, and is said to have been executed by firing squad. (I) don't know whether the defectors were high ranking figures or not."
It is more common for someone to get a prison sentence, once charged with negligence of their duty regarding defecting North Koreans. But this case is different. Since the officer responsible for cracking down on smuggling and defection committed the crime, he may face more serious punishment. The aforementioned reporting partner stated: "Neglecting defection is said to warrant execution without exception, in Hoeryong City. People are shocked, as anyone who helped with the defections will also face execution. Nobody dares to escape from North Korea anymore."
As the Party Conference in May approaches, state control over the population also appears to be increasing. Inspections at the border with China are increasingly more thorough.
* Asia Press covers the inside story of North Korea by providing Chinese cell phones to reporting partners.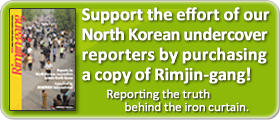 * Editor's notes on North Korean reporters
ALL REPORTS >>>
ARCHIVE(pdf) >>
DPRK MAP >>