2015/April/06
Report: PAEK Hyan, North Korean reporter, Rimjin-gang
Edit: ISHIMARU Jiro, Editor in Chief, Rimjin-gang
Since last autumn, the nationwide power supply in North Korea has been in dire straits. It seems, however, that things are getting better, according to Rimjin-gang's undercover North Korean reporter, Peak Hyan.
Ms. Peak told us, via a phone conversation in early April, [In regards to the northern region where she currently resides]:
"People have been staving off their hunger by exchanging beans, rice and corn from their meager house stocks. But last autumn's potato harvest was good enough that people are able to avoid serious starvation in comparison to the same period a year earlier. Also, the price of potatoes at the market used to be 450 won per kilo but now it's 350 won. So people are able to make potato a staple food."
Local residents in the northern region of North Korea preserve potatoes harvested in the autumn in a small storage pit called an "um", which they dig in their private gardens. At around March/April, the time by when people have usually consumed all their preserved food, they live off the food in the pit. As last year's potato crop was plentiful, the market price of potatoes has decreased, which has helped ordinary people survive the common early spring shortage period.
(NOTE: Food shortage period in spring: This is the most severe period of food shortage for both rural and poor urban dwellers. When people finish the potatoes that they planted on their small private plots, and their government allocated grains, they often struggle through the early spring.)
In the market place in her Northern region, 1 kilo of white rice is 5,000 won (around 60 US cents), while corn is 2,000 won (25 US cents). (The exchange rate is an actual currency rate.)
Chronic power stoppages show signs of improving
North Korea has been suffering continuous nationwide electric power stoppages since last November. Now, it seems, there are signs that these are abating, according to a number of reports out of regions in North Korea to Rimjin-gang's editing team.
We couldn't even muster a spark. We're used to living without electricity, it's become normal for us." (A ranking farming official, Ryanggang Province)
"After nightfall, everything becomes pitch black. Rich people use Chinese generators in their homes, but ordinary people have to make do with a candle or an oil lamp." (A worker, North Hamkyung Province)
************************************
Not only in the countryside, but also in large cities, the power shortages have been serious. Local residents in Hamhung, South Hamkyung Province, North Korea's second largest city, told us as the following:
"Now it's almost like the entire country is faced with a total power failure. We can't even charge our mobile phone. It's not only effecting houses, but there's no power supply for factories and enterprises, as well." (A merchant, Hamhung city)
************************************
Even the capital city, Pyongyang, which enjoys a preferential supply of electricity, has had chronic power stoppages.
"Last winter, the supply was very bad. We only had power three or four hours a day." (A resident in Taedong-gang district, Pyongyang)
************************************
According to statistics published by the South Korean Ministry of Unification, more than 50 percent of the electricity generated in North Korea is through hydro power. The rest is generated by thermal power, the main source of which is domestic coal.
In North Korea, electricity problems are exacerbated every winter due to rain shortages in autumn and problems associated with the rivers freezing over in winter. Matters are becoming worse each year as a result of the decrease in coal used to generate power.
Coal is listed highly among the products earning foreign currency for North Korea. Due to the 2014 plunge in the price of coal on the international market, however, the amount of coal exported to China - North Korea's largest trading partner - has decreased to 17.6 percent. (source: South Korea International Trade Association - KITA Statistic/2014)
Analysts understand that the reason for the worsening power crisis in North Korea is a direct result of coal meant for domestic consumption being diverted to foreign exports to cover losses arising from the declining market price.
Our reporting partner, Paek Hyan explained;
"In our regio n, we currently have electricity in the daytime. Since the river started to thaw in mid-March we also have power in the evening. [It is not clear how many hours supply is available in the daytime]. But the water supply is paralyzed as usual."
People breath a sigh of relief as the spring has come, nevertheless, there is still much to be done to survive the hardships.
*** Rimjin-gang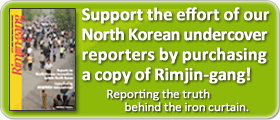 * Editor's notes on North Korean reporters
ALL REPORTS >>>
ARCHIVE(pdf) >>