UN Security Council unanimously made a resolution to impose sanctions on North Korea on March 3. There has been a sign of sanction's impact in North Korea with signs of higher price of the Chinese products. A reporting partner in North Hamkyung province reported as follows;
Q: Is there any sign of sanction's influence imposed by the resolution of the UN Security Council?
A: The exchange rate for Chinese RMB and the price of rice are steadily rising. Sweeping of industrial products has already begun. The Chinese products are imported into Raseon area (located at the northern border of North Korea), but the middlemen from the south (North Korean merchants) are sweeping away those products. Prices of shoes and clothes are rising now. Everyone says that the price would rise more. It is said that the price for a pair of shoes has risen by 5,000won. (about U$0.6)
*Footnote: While the major trading point of Sino-North Korean trading is between Sinuiju and Liaoning, the Chinese products are imported from Raseon area in the eastern part of North Korea.
Q: What about other products?
A: The prices of side dishes or agricultural products such as potato or seasoning are not rising. But the prices of the industrial products (from Chine) and rice seem to be rising.
Following is the table for the price change at Ryanggang province from the end of the last year and the present compiled by reporting partners.
| | | |
| --- | --- | --- |
| | Beginning of December 2015 | End of February 2016 |
| Milled rice 1kg | 3,800won | 4,300won |
| Pork meat 1kg | 8,000won | 9,500won |
| 100 RMB (Chinese currency) | 130,000won | 135,000won |
It seems that the items with rising prices are basic foods and Chinese made products. It can be presumed that the merchants sensed that North Korean Won would be depreciated due to expected shortage of foreign currency followed by the sanctions on the coal export, which is a strategic asset to earn foreign currency for North Korea.
The reporting partner said that the information on the detailed economic sanction has not been released to its people and didn't know by himself that the mineral resource like the coal was included in the sanction. When he was asked about the domestic impact from the sanction, he answered, "There should be headaches for the company to earn foreign currency and coal mining centre. They will not be able to provide rice and money to employees."
"Coal mining centre" is a company which borrows a name of business under an institute with power such as the Party and the Military. It is a subcontractor under the state enterprise of coal mining, which allows them to collect coal and transport them. The investors are the newly emerged capitalists and their friends. The business is operated under the system of market economy.
The area that coal industry covers in North Korea is wide in its operations. A gigantic state coal enterprise has numerous mining centers with gas station and garage for cars and machine. If the coal export is decreased substantially, the privileged people and the employees will definitely feel the effects. There would be a possibility of hyperinflation also due to shortage of foreign currency.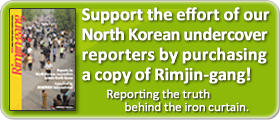 * Editor's notes on North Korean reporters
ALL REPORTS >>>
ARCHIVE(pdf) >>
DPRK MAP >>