2014/September/30
Written by ISHIMARU Jiro, Editor in Chief, Rimjin-gang
It has been confirmed that, as of September 2014, the North Korean state has extended the term of compulsory military service. Until now the term of service was set at 10 years for males and 6 years for females, according to our reporting partner in North Korea, males must now serve 11 years and females 7. In North Korea, military enlistment season is twice a year, in April and September. Registration for compulsory military service usually begins at the age of 17 following graduation from secondary school.
Our reporting partner, whose son enlisted in September, told Rimjin-gang via a phone conversation on the 18th,
"The change in the term of service was announced at the place of enlistment registration. The department of military mobilization, which is in charge of enlistment administration, told us that the term of military service has been lengthened. This was the first we'd heard of this and I was very discouraged as a mother. But it is impossible to express my feelings to anybody."
The Rimjin-gang editorial team then contacted another reporting partner to confirm the information. This reporting partner spoke directly with a "formation instructor", the official working with the military service section at the department of military mobilization.
The instructor explained that the term of military service had indeed been extended, but for one year for both male and female enlisted soldiers, beginning from the new enlistment term. This means 11 years for male and 7 years for female soldiers. The instructor added that it is not expected that any soldiers will be discharged.
According the instructor, there is also a new policy imposed for those who have enlisted late due to commitments such as university. For these 'late enlisters' discharge will not be possible until they reach 30 years of age. Previously, students studying to an advanced level could choose to complete an enlistment term in the military or not, but under the new policy, all university students must carry out military service. The instructor further told our reporting partner that the new policies are aimed at countering the decreasing number of enlistments.
Rimjin-gang previously reported on the strains the North Korean military is experiencing in securing new enlistments, pointing to the knock-on effects of the social confusion and starvation that marked the mid-1990s as the cause for these recruiting difficulties.
https://www.asiapress.org/rimjin-gang/2014/07/military/birth-rate-military/
During this period, often referred to euphemistically in North Korea as the 'Arduous March', a considerable number of children perished, while many of those who survived suffered from the effects of chronic malnutrition. Furthermore, as a direct result of the hardships experienced by North Koreans during this period, the birth rate also decreased significantly, which has had an impact on the number of young people available for military service.
Facing up to the rapid decrease in military service enlistments, the Kim Jong-un regime is taking action to secure the necessary number of new military recruits, even if this means recruiting workers who previously would have been exempt.
### Rimjin-gang
(* ASIAPRESS smuggles Chinese carrier mobile phones into North Korea that function in the border area of North Korea. Using these, our North Korean reporters and reporting partners communicate with us on the latest developments. )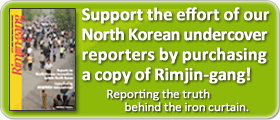 * Editor's notes on North Korean reporters
ALL REPORTS >>>
ARCHIVE(pdf) >>