2014/July/29
Written by PAEK Chang-ryong, a defector reporter
"Starved Generation" reach age of military enlistment
The North Korean military is currently struggling to meet their enlistment targets due to difficulties in recruiting new recruits. This is a result of a decrease in the number of new middle school graduates. Despite the state's best efforts, however, draft dodging and corruption are undermining the emphasis on resupplying troop units. The problem of meeting troop quotas is affecting the North Korean military at various levels.
Our reporting partner in North Hamkyung Province told us, via phone conversations made on 8 July, that the authorities have been forging ahead with the military conscription project, dubbed 'social convocation enlisters' in North Korea, and aimed at increasing the recruitment of workers recently graduated from middle school. The problem confronting authorities is that those conscripted for the military are doing all they can to avoid enlistment, with bribery reported as the means by which potential recruits are slipping through the net. This continues to frustrate authorities that are required to fulfill a new recruit quota. Those caught draft dodging are reported to the local committee of the Korean Workers' Party(KWP) and face punishment.
Our reporting partner explained the following:
"A 24 year old man living in XX County received the call up for military service. Instead of answering the call he told the director of the military mobilization program (a local ranking official responsible for military conscription) that he is not able to join the army because he has a wife. This young man has been dodging the draft every year by paying bribes, and he assumed he would get away with it this time as well. But this year his luck ran out. His case has been reported to the County's committee of the Party and he and his parents have been summoned to face the committee. It is a certainty that he and his family will now face the consequences of their actions."
In North Korea, the military draws its new recruits through a conscription system called 'obligatory military service'. It is legitimized at the Supreme People's Assembly that all males should be enlisted to the military upon reaching 17 years of age. The only exception is for those ruled out by the physical exam. Criminal Law Article 83 (2004 amended version) rules that any person evading military service mobilization will be subject to punishment of up to two years in a labor training correctional facility.
The conscription system
Upon reaching 14 years of age, all male citizens are automatically registered at the local military offices and receive a physical exam every year until the age of 17. Upon graduating middle school at 17 years old, young men who have passed the physical exam receive a warrant for their enlistment from the military mobilization department, belonging to local administrative institutions. The new recruits will then be posted to their troop unit. This procedure is called 'convocation enlisting' because, officially, all young men of age are expected to voluntarily join the military when their time comes.
[NOTE; In North Korea, at the age of 14, middle school students are obliged to participate in the political organization known as the Youth League. At the same time, students join paramilitary organization, the Young Red Guard. From that time, all students are expected to participate in military training until graduating middle school. During training, students practice live-fire exercises.]
Knock-on effect of the 1990's Famine on the Military
There are several causes for the current shortage of soldiers in the North Korean military. However, the major reason derives from the serious social disruption and starvation that occurred in the mid-1990s, a period commonly known as the Arduous March. During this time, a high number of children , and adults of childbearing age died of starvation. Even those who survived this period of deprivation suffered from the effects of chronic malnutrition. Today, as these individuals reach adulthood, the effects of long periods of hunger can be seen in a weakened physique. Furthermore, the hardships of life in North Korea during the 1990s led to a falling birth rate as many families could not afford to bear children.
The 'Generation of the Arduous March' is now reaching the age of military enlistment and the hardships of the past are making it almost impossible for recruiters to find the new soldiers they require.
Faced with this situation, the North Korean military has responded through loosening the enlistment criteria for new recruits. This has included lowering the height and weight requirements. Recruits initially had to be at least 145cm (4.76ft) to pass the exam, but this has been amended to 142cm (4.66ft). In addition, military authorities are forging ahead with the recruitment of female recruits. One of our reporting partners told us that she heard that around one-third of women in some middle school graduating classes join the military.
Another reporting partner explains,
"Actually, I feel sad seeing soldiers of the People's Army. For instance, in the artillery units, normally five soldiers should be in a team including sighters, shell chargers and shooter. But now they are only doing that job in pairs. Every year, a certain number of soldiers are discharged from the military upon finishing their term of service, but the numbers just aren't there to replace them."
10 years service takes toll on young soldiers
The manpower shortage in the North Korean military is compounded further by widespread draft dodging. It is estimated that the North Korean military is around one million strong; this is around five percent of the national population. Having said this, it is doubtful whether the North Korean government can afford to maintain its bloated fighting force, as it has been battling serious financial deficit for some time now. It is widely known that, since the 1980s, the state has not been able to provide enough food for its soldiers, and malnutrition has become rampant among soldiers.
It is not unusual to come across soldiers displaying signs of malnutrition soon after enlistment, some are even ordered back to their families to recover. In North Korea, the military enlistment period lasts for ten years. During this time, many soldiers become 'master thieves', as they commonly steal food from people or farms to avoid starvation. It is a well known fact in North Korea that joining the military is an unrewarding job encompassing physical and mental suffering. It used to be widely believed that there was no better self-sacrifice than dedicating ten years of one's youth to the state. This attitude long ago changed.
Resultantly, draft dodging is now rampant and, as we saw with the example of the 24 year old discussed earlier, many young men try to avoid enlistment by bribing the responsible ranking officials, or pretending to be a sick to acquire the medical report needed to evade service. The Kim Jong-un administration is beginning to take a harder line towards draft dodging.
Our reporting partner explained as follows:
"Recently, a massive crackdown against draft dodgers was launched. Even the local committee of the Party is working on it. It means that there has been 'instructions' (=direct commands from Kim Jong-un) handed down to address this issue. 'Ensure 100 percent of young men are voluntarily enlisted into the military before they reach 24 years of age,' dictates one section of the 'instructions' from up high. The responsible secretary (=the chairman of the Party's local committee) in each region is ordered to enlist a given number of persons according to the plan. But officials are struggling to meet the quota and they know it is not possible to gather the number required in such a limited time."
The North Korean state-run media frequently reports the on-site inspections of Kim Jong-un to the military in various locations throughout North Korea. Though the Supreme Leader repeatedly emphasizes the importance of the military, incidents of draft dodging are increasing and show no sign of abating. The state proclaimed Songun - the Military First policy, is looking further and further detached from the reality inside the Korean People's Army.
### Rimjin-gang
(* ASIAPRESS smuggles Chinese carrier mobile phones into North Korea that function in the border area of North Korea. Using these, our North Korean reporters and reporting partners communicate with us on the latest developments. )
--------------------------------------------------------------------------------------------------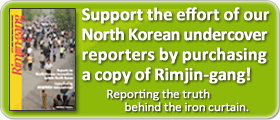 * Editor's notes on North Korean reporters
ALL REPORTS >>>
ARCHIVE(pdf) >>