The 7th Worker's Party congress ended on May 9. Despite initial expectations, most people did not receive the special commemorative gifts supplied by the government. Those who did have voiced discontent regarding the poor quality of the gifts. On May 11 an ASIAPRESS reporting partner explained:
"After the 70-day battle, the government supplied toothpaste, a toothbrush (made in North Korea) and a bottle of liquor to every household."
But because most North Korean people are accustomed to better quality Chinese products, they regarded the toothbrush set with disappointment. In addition, the government required them to pay for the supplies, which brought further criticism.
"People at a nearby collective farm didn't go to pick up the supplies as the authorities required them to pay 1,500 Won (U$0.18). I didn't go either."
All the North Korean people were mobilized for the historic Worker`s Party congress. But the rewards fell short of expectations. That is the reality of the Kim Jong-un regime.
It is not confirmed whether Pyongyang and other regions got the same supplies.
According to the ASIAPRESS reporter, a school uniform was supplied to his daughter in elementary school for free, on April 15 (the birthday of Supreme Leader Kim Il-sung), before the Worker`s Party congress. The quality of the uniform was also extremely poor He said, "I really felt really sorry for my daughter in her new uniform. The color of the skirt is dull grey and the fabric is of a poor quality. It is similar to the clothes old ladies wear."

*ASIA PRESS makes contact with reporting partners in North Korea via Chinese cellular phones.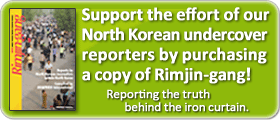 * Editor's notes on North Korean reporters
ARCHIVE(pdf) >>
DPRK MAP >>