Reporter, Koo Gwang-ho of ASIAPRESS, recorded a video on street vendors who are fleeing from cracking down by officials. The video was taken on June 2011.
Moranbong District of Pyongyang looks clean and tidy. But when the reporter Koo sneaked into the back alley where foreigners are prohibited from entering, many residents are doing business there. Residents of central area of Pyongyang are making a living like that.
Related article: [Video Report] Residents of central Pyongyang live on businesses in the market.
It is usually not permitted to do business in other than public market. But they have to pay taxes if they want to do at the market. Those who can't afford the taxes are doing business on alley near the market, targeting foot traffic.
There is no violence or forced seize of goods during the course of cracking down. Judging the attitudes of vendors, they are accustomed to cracking down like that. It is a sort of everyday happening.
Driven out resident complains "Without giving a grain of rice or support at the state level, why are they cracking down on us?"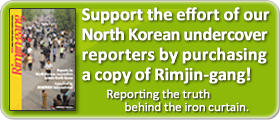 * Editor's notes on North Korean reporters
ALL REPORTS >>>
ARCHIVE(pdf) >>
DPRK MAP >>