The mid 90s' were a chaotic period for North Korea. During this time there were a large number of orphaned children living in desperate conditions, in the streets and in the illegal markets. Among these, girls especially were targeted for sexual abuse and exploitation. Desperately hungry girls were sexually exploited while searching for food.
◎ASIAPRESS rimjingang playlist>>
On a video recorded in Chungjin City on July 2004, a man approached a Kotchebi girl and said something inaudible to the reporter, nearby. During the long hours that followed, as the reporter observed, the man never left the girl.
Even after 2000 kotchebi girls could be seen in the markets. They are recognizable as girls by their carefully braided hair and the flowers they have inserted in their braids. It is heartbreaking to see these young children having to eat leftovers.
Kim Dong-cheol, reporting partner in North Korea, reported on cases when people led abandoned girls away from the markets. Kim laments as to whether or not the person intended to help these children. Even recently, young girls are extremely vulnerable to sexual abuse.
Related article: [North Korea] There is no water! North Korean People's 'Water War' because of water shortage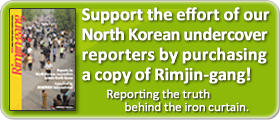 * Editor's notes on North Korean reporters
ALL REPORTS >>>
ARCHIVE(pdf) >>
DPRK MAP >>