2014/June/12
Report/Photo:KANG Ji-won
Edit: PAEK Chang-ryong
(Both members of the reporting team are North Korean defectors)
Border security controls are being tightened on both sides of the river. On the Chinese side, the installation of a wire fence was completed several years ago.
"Now, China is more cautious about drugs being trafficked from North Korea than defections,"
an ethnic Korean man in Chinese Changbai Prefecture explained, regarding the recent increase of drug smuggling in the area.
"In the past, defection and drug smuggling have been more active across the other border rivers along the Tuman-gang (Tumen). But since security was tightened by the North Korean authorities, and the wire fence, on the Chinese side, was completed last year, illegal border crossing and smuggling in the Tuman-gang area were extinguished. As a result, drug smugglers on both the Chinese and North Korean side have shifted their staging to the narrower, up-stream area of the Amrok-gang (Yalu River), where they can find convert positions for smuggling.
Recently there have been more frequent controls imposed by the Chinese border authorities at checkpoints along the roads connecting Changbai Prefecture to other areas. The crackdown measures were designed to stem drug trafficking rather than detect North Korean defectors."
Most of the drugs smuggled from North Korea are stimulants known as bing-du 冰毒, Chinese slang for 'poisonous ice'. In local Korean slang, this product is known as eoleum 얼음('ice').
Desolated mountains
As a result of the serious food shortages of the 1990s, North Korean mountains are virtually barren, with few trees or foliage. After the collapse of the food rationing system, local residents over-logged the mountains for firewood and reclaimed the slopes of the mountains for growing vegetables to survive.
Since then, the authorities have been imposing policies for the preservation of mountains, and to encourage tree planting.
It seems clear from these photos, however, that these efforts are not yielding the hoped for results. A considerable number of people are still compelled to survive by cutting trees and stripping the bark to use for firewood and food. It is illegal for residents to reclaim the mountainsides for agricultural use, or to log trees.
The authorities frequently patrol the mountain areas, however, it is a cat-and-mouse chase with bribes sometimes exchanging hands. For the people, it is a matter of life and death to get food and firewood.
*** Rimjin-gang

<<< BACK TO PART 1
PART1 - PART2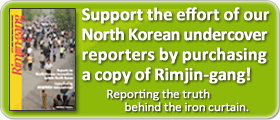 * Editor's notes on North Korean reporters
ALL REPORTS >>>
ARCHIVE(pdf) >>