Three persons - including the husband of Jang's niece, and two actresses are said to have been executed -
2014/April/09
Written by ISHIMARU Jiro, Editor in Chief, Rimjin-gang
Order issued to recall the films that the actresses appeared in.
ASIAPRESS North Korea Reporting Team has obtained information pointing to the firing squad executions of kin and persons affiliated to Jang Song-taek. If the information is true, it will stand as proof that the purges of individuals connected to the executed former Vice Chairman of the National Defense Commission, Jang Song-taek, are continuing. On 30th March, the team had a telephone exchange with our reporting partner currently living in the northern region of North Korea. This partner reports that news on the execution of Choi Un-cheol(최웅철), former-movie actor and husband of Jang Song-taek's niece, and two actresses, Kim Hae-gyong(김혜경) and Park Mi-hyang(박미향), has people abuzz.
Our reporting partner is an administrative servant in the regional city, and is in a position to have close access with ranking officials of the Korean Workers' Party and the military. The partner says that the date of the executions is unclear, however,
"This information was brought very recently to the attention of ranking officials. Choi Un-cheol is a son-in-law of Jang Song-taek, and he was a well-known actor. The title of the movie he appeared in is "A Responsible Secretary of Taehongdan". The order to recall the movies that these three actors appeared in was issued to all institutions responsible [for the control of banned items]. It is now causing quite a fuss among officials."
Our partner continued as follows:
"An actress, Kim Hae-gyong was said to enjoy special favor with Jang Song-taek. Another executed actress, Park Mi-hyang belonged to the Moranbong Music Band, and is said to have been a granddaughter of a person with a strong affiliation to Jang."
A North Korean defector who lived in Pyongyang for many years, explains about Choi Un-cheol, Jang's son-in-law:& nbsp;
"Choi Un-cheol was about 48 years old. He was popular, especially among young women. He was said to be in love with an actress whom he co-starred with, but he married Jang Song-taek's daughter. So his popularity took a tumble when people started to see him as having abandoned his wife for ambitions of money and power. He quit his acting career and entered the People's University of Economics. After that, it is said he became chairman of the transportation company which monopolizes the taxi business in Pyongyang."
This defector added that the actress Kim Hae-gyong was her late 30s. She was known for her beauty, and appeared in the film, "Stem Grows From The Root". She was often the focus of gossip regarding her love life.
Jang Song-taek was executed on the charge of subversion. Following Jang's execution, a large number of people regarded as Jang's 'inner-circle' were purged with charges of guilt-by-association. If our reporting partner's information on the recent executions is true, it will be a proof that the series of purges is continuing in North Korea.
***Rimjin-gang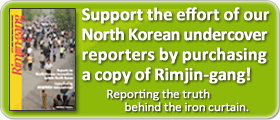 * Editor's notes on North Korean reporters
ALL REPORTS >>>
ARCHIVE(pdf) >>