2015/March/17
Report: Kim Dong-cheol, North Korean reporter, Rimjin-gang
Edit: ISHIMARU Jiro, Editor in Chief, Rimjin-gang
<This article first appeared in the Korean and Japanese edition of Rimjin-gang on January 2015>
Battle For Livestock and Human Manure
Each New Year ordinary North Koreans are faced with the daunting prospect of getting through two events widely known as tedious and unavoidable. The first of these is Kim Jong-un's New Year's address.
When Kim Jong-il was in power North Koreans were obliged to recite and every single line, word for word, of each editorial article of the "Rodong Sinmun" (the mouth organ of the Korean Workers' Party), "Korean Peoples' Army Periodical" and "Youth Vanguard". Now, with the passing of the baton to his son, it is the words of the younger Kim that are poured over and committed to memory with great care. Recital competitions are often held in workplaces and schools. To receive a poor mark is to be subject to criticism. Each person thus takes it upon himself or herself to recite the full text of the Great Leader's address. This annual ritual is well known to be dull, at best, but for ordinary people there is little choice in the matter.
The second issue currently frustrating many ordinary people in North Korea is the forced mobilization of the civilian population for sowing seeds before spring, and making compost for rice planting.
The composts are made from animal and human manure, mixed with rice straw and dried plant matter. Workers have an assigned quota for the production of this compost. Rimjin-gang's undercover North Korean reporter, Kim Dong-cheol, who lives in the midland region of the country, explains more regarding this winter's compost mobilization activities.
"Every single family is tasked to collect compost. The quota is 100kg (=220 lb) a day and this should be met for each day, 10 days in total. It is this year's assigned quota. In the New Year's meeting of the People's Unit (NOTE: the lowest local administration unit composed of neighborhoods), it was underlined that every resident should participate in this mobilization with no exceptions. These days, there are heavy restrictions imposed in every sector of society, so I participated and took the job very seriously so as not to be marked out by the authorities."
In a large city such as Pyongyang, it is not easy to collect manure, so usually workers pay money instead of delivering compost to their workplace unit. In the countryside, it is said that compost collection can become quite competitive between people desperate to meet the quota.
*** Rimjin-gang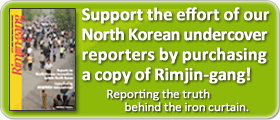 * Editor's notes on North Korean reporters
ALL REPORTS >>>
ARCHIVE(pdf) >>