◎ASIAPRESS rimjingang YOUTUBE playlist
North Korea has a system to mobilize the people to help farm village for the busy seasons. However, the rally has lost its original motive and cause trouble for the people. A reporting partner from Asia Press in North Korea filmed a meeting of the farm village mobilization in a local town on a day in the spring of 2013. It shows that guiding information is provided and the encouragement to work hard is made. But the people do not receive any payments. Furthermore, they don't have any morale since they have to bring their own meals. On site the head of working group pushes the members to work hard, but they utter complaints. There is no reward for the mobilized people since the farm is owned by the state. They give political study on the site during the work. While a farm official gives a speech for celebrating Kim Jong-un, the people as well as the official himself seem to regard it nominally.
Footage copyrights : ASIAPRESS The video footage may not be used in any form(copying,selling,renting,distributio­n,screening,broadcasting,webcasting and debunking) without the prior written consent.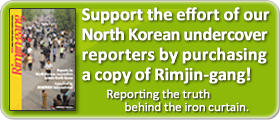 * Editor's notes on North Korean reporters
ARCHIVE(pdf) >>
DPRK MAP >>