On April 2, an ASIAPRESS reporting partner in North Korea reported that four terrorists were arrested, accused of attempting to assassinate Party leaders in Hoeryong City, North Hamkyung Province. (Kang Ji-won / ISHIMARU Jiro)
The incident happened in Inkye-Ri, Hoeryong City, near the Tumen River. The reporter said that a group of four terrorists from South Korea were captured.
According to his report, rumors are spreading rapidly about the incident. An advisory officer of the Border Security Forces told him directly, "The head of the group who was under surveillance by the National security Agency is a defector to South Korea and the rest are Chinese. All of them were arrested and brought to the State Security Department (secret police) office in North Hamkyung Province." He missed the opportunity to catch them in his territory: "The government would have given a hefty reward and the opportunity to become a Worker's Party member to those who captured the terrorists."
May be a self made intrigue..
The incident seems far fetched given that the border between China and North Korea is so heavily guarded on both sides and it would be extremely difficult for anyone to carry out such clandestine operations. Even if an individual succeeded in crossing into North Korea, it is almost impossible to move around freely inside the country. It is hardly difficult to even conceive of a Chinese person crossing the border to carry out a terror operation.
Agents may have indeed tried to cross the border illegally for smuggling, however, the authorities may have fabricated the incident as 'outside forces including South Korea are trying to plot terror or secret operations against North Korea.' The North Korean government is moving to reinforce the control over its citizenry, provoke hostility toward South Korea, and foster fear towards the outside world for the purpose of encouraging internal solidarity before the Party conference in May.
The incident implies that the authorities aim to reinforce control over people near the border area. The reporting partner said, "rumors are spreading, but there has been no official announcement yet."
At the end of last month, the State Security Department held a public rally on the subject, "The family of defectors to South Korea shall be exterminated up to three generations."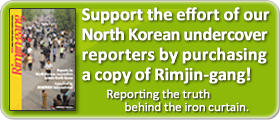 * Editor's notes on North Korean reporters
ALL REPORTS >>>
ARCHIVE(pdf) >>
DPRK MAP >>