◆Agricultural producers are starving
'Hungry households' is what they call families in North Korea with no money or food.
With the corn harvest not until September, North Korean cooperative farms are going through an intense period of hardship. This has led to a severe food shortage in the countryside, confounding North Korean authorities.
Our reporting partner in Yanggang Province, North Korea, reported on the situation after conducting a field survey in late June.
"In the village I visited, signs of the rising food shortage were obvious and city officials had each been assigned one or two houses in order to prevent the hungry from dying. When I asked the villagers if there was less food, they told me that each day they could only find 2 or 3 small potatoes the size of bird eggs to eat."
◆'Skin and Bones': Shocked to see such malnourished children
In early July, another reporting partner investigated conditions in Saet-Byeol County of North Hamkyung Province and was shocked by the devastation.
"Living in one of the squalid houses was a young boy and an elderly woman whose son had died of tuberculosis earlier in the year. She said that she had no money or food and that she and her grandson were surviving on 3 kilos of corn borrowed from a neighbor. However, the neighbor who had lent him the corn was pressuring her into paying back the debt. Her grandchild was just skin and bones."
She said that a fellow farmer, unable to look on any longer, had bought her 10 kilos of rice in the market but that she was already feeling like a homeless person and did not think she could live like this for much longer.
There are many reports that farmers are destitute and that the sick and elderly are dying from starvation.
Why are agricultural producers without food? North Korea maintains a system of collectivized agriculture, in which each farm is tasked with providing a certain amount of its crops to the state, most often to be given to the military. Farmers are free to do what they like with excess crops but the production targets set by the state are too high and people are struggling to meet them, due to the impact of last year's drought on current crop yields.
Nonetheless, agricultural producers are under pressure to achieve the government's production targets. Not only are farmers'lives a constant hardship, but their struggle is compounded by the government forcibly requisitioning crops. As the farmers cannot survive on the state distribution, they become "hungry households" from spring until the harvest in September. (KANG Ji-won / ISHIMARU Jiro)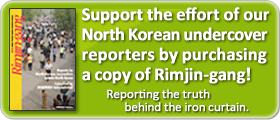 Editor's notes on North Korean reporters
ARCHIVE(pdf) >>
DPRK MAP >>