Written by LEE Jin-su
2012/May/07
Possible reasons other than a simple food shortage

Farmers are starving to death: an interview with a local resident
Now, in southwestern North Korea, residents of the Hwanghae region are having great difficulties obtaining food. To summarize accounts of numerous interviewers inside the country and statements made by Hwanghae farmers in interviews in China in March, it appears the disarray is serious enough that some are dying from starvation. What is happening in this region, the only breadbasket region in North Korea, which was once described as "feeding Pyongyang"? The bigger picture is still unclear; however, let us use information coming from the area to analyze the food crises in the breadbasket.
Many people are starving to death. The situation is worse than the famine during the Arduous March. Since three years ago, the food supply situation has continually deteriorated. The waiting area at the train station in Sariwon, North Hwanghae Province has become overrun with male and female kotchebi (homeless) of all ages." (End of March, woman in her 40's from South Hwanghae Province)
"In the county of [redacted] in South Hwanghae where I live, malnutrition is spreading among the farmers. The farming industry is not going well at all. Incidences of eating human flesh have occurred in the region." (End of March, Male farmer in his 30's from South Hwanghae Province)
"I directly asked the top agricultural official in South Hwanghae Province. He resentfully responded that 'the lives of farmers are really bad. The military takes as much of the harvest as they want for military supplies. The military completely ignores the quality of life of the farmers.'" (Beginning of March, Rimjin-gang reporter Gu Gwang-ho while visiting the region for interviews)
"Someone starves to death everyday in Haeju city of South Hwanghae Province. I heard this a few days ago directly from someone who came from the region. They said the food supply in North Hamkyung Province is comparatively much better than that in North Hwanghae Province. In North Hamkyung Province, only two meals a day is not uncommon, but I was surprised to learn how bad things were in North Hwanghae Province, which is noted for its rice production." (Beginning of May, North Hamkyung Province, Rimjin-gang reporter Ha Su-ryon)
In this way, those living in North Korea provide a growing body of evidence that the people of Hwanghae are facing a crisis. According to these statements, it is not an exaggeration to say that by March at the latest, the worsening of the food supply reached the level of a humanitarian crisis.
In addition, even after the 100 anniversary celebrations of Kim Il-Sung on April 15th and the government's internal and external appeals of "celebrations outpour for prosperous North Korea", there are no signs of a turnaround of the situation.
Information about the food crisis in Hwanghae is beginning to trickle out of other media outlets and humanitarian support groups. An April 4th article by American RFA (Radio Free Asia) reported that well-informed local sources are attesting that "farming villages in South Hwanghae Province have already exhausted their food supplies" and "due to a lack of food in one village, children are kicking their sick parents out of the house, and other related acts that are difficult to speak of are occurring."
The Tokyo Shimbun (newspaper) reported on April 21st that "according to North Korean sources, from December 2011 until April 2012, 20,000 people have starved to death in South Hwanghae Province."
The article also reports that "local Workers' Party officials requested support from the central government but it is unclear if the situation has improved" and that "in some regions, over 1,000 people starved to death in one day; these conditions are historically the worst so far."
In addition, in an April 25th newsletter, the South Korean humanitarian NGO "Good Friends" reported that according to statements by Workers' Party officials, "in North and South Hwanghae Provinces, even grass does not remain (as it has been eaten). The conditions are worse than those during the Arduous March."
This is not simply a "food shortage"
Why is there a food shortage crisis occurring in the breadbasket provinces of Hwanghae? The purpose of this report is to suggest an answer to that question. As the Hwanghae provinces are the farthest from China, it is difficult to come in contact with the people from the region. Due to this fact, there is a lack of information which constrains our ability to fully analyze the situation. However, Asia Press feels that the causes of the "famine in the breadbasket" given the internal conditions after Kim Jong-il's death, Hwanghae's location, and North Korean economic conditions, are the following three points:
1. Land usurpation from farming villages: The economic structure allows national and municipal governments to exploit and usurp land from farming villages
2. Systemic stagnation in agriculture: Last year's flooding, the limits of collective farming, and rampant fraud and corruption are problems
3. Politically-made disaster: The strain of stricter political control and increased wasteful spending after the death of Kim Jung-il is also a contributing factor
We hope to begin publishing installments and wish that our analysis will help in understanding the current situation in North Korean society, and when the international community begins to deal with this food shortage crisis, these reports will be some of the materials used.
North Korea Food Crisis - PART1 - PART2 - PART3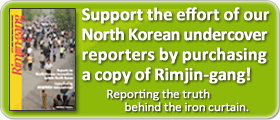 * Editor's notes on North Korean reporters
ALL REPORTS >>>
ARCHIVE(pdf) >>