The Daily Life of North Koreans:
2014/March/15
Written by PAEK Chang-ryong, a defector reporter
Books are a source of information for the people
In many countries around the world, secondhand book shops seem to be gradually disappearing, in an inverse relationship with the digitalization of resources. But in North Korea, secondhand bookstalls and book rental businesses still do a bustling trade.
It is common for North Korean people to procure their required goods at the marketplace, using money. Books are no exception. Not only "domestic publications", such as school texts, reference books, or dictionaries, but also so-called "impure publications", strictly censored by the authorities, are secretly in circulation.
In North Korea, where state policy is based on socialism, all social services should be bestowed on the people without charge; this includes education, which should also be provided without cost. However, in reality, many students have to pay to obtain school textbooks because the educational administration system is not functioning and, in many schools, textbooks are not supplied. Students are expected to procure the necessary textbooks by paying cash. Families that cannot afford to purchase the educational texts for their children, share the expenses of buying the textbooks. They lend each other the book or will transcribe passages so as to ensure ongoing access to the materials. Because of this, the authorities cannot effectively crackdown on textbook selling, which continues to be considered as a "resale" of the state supplied materials.
This is a picture captured from video footage taken by our North Korean reporter.
In the original footage, there are several men sitting together, browsing the books in front of this elderly stall-keeper. According to our reporter, these books here are not only for sale, but are also for a rent. Renting a textbook costs one twentieth of the retail price.
There are various titles such as "Basic English Grammar", "Mathematics Exercise Book", "Common Knowledge for Women", "Family Medicine" and "General Knowledge of the World".
Further to these major titles, "impure publications" are also available at the smaller bookstall in the backstreet. These include novels from South Korea or Japan, adult novels, and documents considered unsuitable by the North Korean state. These publications were originally meant for a limited circle of people in the country, but reached the secondhand market. Of course, these are still under state censorship. If the buyers do not have a trusting relationship with the seller, it is not possible to obtain these blacklisted texts.
In 2008, at the time I was living in North Korea, I often borrowed many books from these secondhand bookstands. One of the titles I remember seeing is "Herman Goering", a book about the right hand man to Adolf Hitler. It was in Korean and designated as a "100 Limited Copy Classification", published only for high-ranking state officials.
It is not too much to say that North Korean people are thirsty for information. There are many people who are interested in these publications, especially the "impure publications", because there is so much the state-run media never discloses. There is always a demand for secondhand books since the electric shortage is chronic and DVDs always come with the risk of heavy punishment. Often is the case, however, that if a person has enough money to shell out around 500 to 1,000 won (around 30 to 60 US cents) for these books, they will first buy some food to fill their stomach before filling their mind with knowledge.
*** Rimjin-gang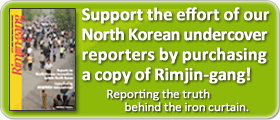 * Editor's notes on North Korean reporters
ALL REPORTS >>>
ARCHIVE(pdf) >>