2011/December/20
Written by ISHIMARU Jiro, Report by Choi Gyon-ok
"(We) don't care that he died." - A markedly difference response than that at Kim Il-Sung's death in 1994.
Sources from inside North Korea report that residents of North Korea reacted coldly to the news of Kim Jong-il's death. It was also reported that markets were closed down in conjunction with the mourning period, and this has begun to affect residents' lives.
The Rimjin-gang collaborating reporter Choi Gyon-ok, who lives in a town along the border with China in the northern Ryanggang Province, described the situation by phone on the evening the 19th, the day of Kim's death.
"The town is calm. Over the last few days, the electricity situation had been worse than usual. There were many who could not see the broadcast at noon. As a result, the news mainly spread in the afternoon from the merchants at the markets. The response was the exact opposite to the people's response to Kim Il-sung's death in 1994. For example, right after Kim Il-sung's death, many people visited his statues and the revolution's historical sites to mourn his passing. This time there was only a sprinkling of people at those locations. Female merchants continued their commercial activities on the road-sides, and the authorities did not make any special arrangements. In Kim Il-sung case, continuing commercial activities during such an important period was considered treasonous."
On the evening of the 19th, the Korean Central Broadcasting Station and other state-run media outlets continuously showed images of people breaking into tears in front of the portraits and statues of the late Kim Jong-il. However, it seems the actual response of the people was quite different.
Choi reported as follows:
"The majority of the people calmly accepted it as 'whatever happened, happened.' I also heard others say, 'If he dies, then he dies. It has nothing to do with me.' There are no differences in peoples' lives between yesterday, the 18th, and today."
Choi further conveyed the North Koreans' discontent.
"Some people complained, 'Although the General died on the 17th, why were the people not informed about it until now?' They also said, 'The reason we were not informed right away is because they were afraid that the people would be agitated and revolt, proof that they do not trust the people.'"
According to the North Korean media, the funeral ceremony will be on the upcoming 28th, and the mourning period will last until the 29th. The people of North Korea will participate in a number of memorial events during this period. In regional cities, the memorial events began in earnest on the 20th, the day after the public announcement of his death. The lives of the people were beginning to be greatly affected at this time.
*** Rimjin-gang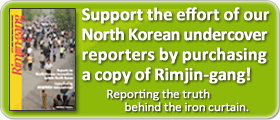 * Editor's notes on North Korean reporters
ALL REPORTS >>>
ARCHIVE(pdf) >>