2013/December/17
Written by PAEK Chang-ryong
The authorities force people to submit 'a composition of confession' while fear continues to spread after the purge

The sudden purge of the vice chairman of the National Defense Commission, Jang Song-taek casts a long shadow of fear and uncertainty over the people. According to our reporting partner in North Korea, feelings of aversion against the Kim Jong-un administration were evoked in various sectors of society.
Our reporting partner, who lives in the Northern part of North Korea, explained the following to us in a phone conversation made on the evening of 15th December:
"People are very much scared. Even a person like Jang Song-taek who had a strong power base in the state can be executed. It is beyond our imaginations to think about what kind of circumstances people like us, who do not have any power, will face. Most probably many people will be killed in connection to the purge of Jang song-taek. There is a rumor that anybody who had a connection with Jang will be subject to liquidation."

The people's fear is now rapidly growing as they see that at anytime, anyone can be a target of liquidation. Our reporting partner described the current situation after the Jang Song-taek event:
" A new phrase appeared. It is a phrase called 'the surrender policy' (자수정책). All citizens in our country should surrender by the end of December. It points to the belief that that those who voluntarily surrender will perhaps not be subject to such harsh treatment, but those who do not will be treated with no mercy.
The authorities now compel all people, including the elderly, to write and submit an 'composition of confession'. People are horrified, as they now all know that even Jang Song-taek was executed by the firing squad. Everybody wrote a 'document of confession' though we ordinary citizens are nothing to do with the crimes."
The 'document of self-confession' the reporting partner referred to is the 'composition of reflection' (반영문) that was reported in our previous article. It is the description of self-reflection and self-criticism referring to the 'crimes' committed by Jang Song-taek.
"Jang Song-taek's policy intention was not wrong" - public opinion silently spreads
Our reporting partner explained the reaction and feelings of sympathy of the people towards the execution of Jang Song-taek:
"There are a considerable number of people who are feeling of a kind of aversion to the purge of Jang Song-taek. The opinion is that if Jang's plans for political change were successful, the people's life could be much easier. It would be great if people's life conditions improve, even if we implement capitalism. Everybody who has a smart mind has, more or less, this kind of opinion. But of course it is not possible to express these opinions publicly, so it is only spoken behind closed doors."
Currently in North Korea, the authorities are trying to enforce in the people a singular-loyalty to Kim Jong-un's administration, especially after Jang's execution. But, contrary to this, people's actual feelings are anti-thetical to the intention of the state. These positive remarks on Jang Song-taek is an indication of the feelings of the people of North Korea, who, for so many years now, are forced to live in a harsh environment by the country's leaders.
### Rimjin-gang ------
-------------------------------------------
(* ASIAPRESS smuggles Chinese carrier mobile phones into North Korea that function in the border area of North Korea. Using these, our North Korean reporters and reporting partners communicate with us on the latest developments. )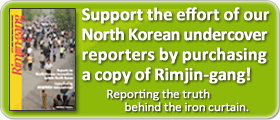 * Editor's notes on North Korean reporters
ALL REPORTS >>>
ARCHIVE(pdf) >>