On August 2, an ASIAPRESS reporting partner in North Hamkyung Province reported that state level inspections had been implemented to crackdown on transit pass corruption among members of the People's Security Station in Hoeryong City . (Kang Ji-won/ISHIMARU JIRO).
The reporter, who has connections within the provincial Security Station said: Any individual caught illicitly acquiring a transit pass to Pyongyang is arrested. The central authorities are clamping down on travel pass-related corruption and punishments are reported to be severe.
In North Korea it is necessary for people wanting to travel to neighboring provinces to apply for a transit pass, issued by the '2nd Division' of the People's Committee at the local government level.
Related Article:Strict Separation of Attendees for Worker`s Party Congress  Cell phone prohibited to keep itinerary confidential
In recent years, as the market economy has been growing in North Korea, more people need to travel inter-provincially. The easiest way to acquire a pass has been through bribery of members of the People's Security Station.
* The approval process has become more stringent and the process is slow because each guard post is required to perform a security check on travellers.
Our reporter explained, "Because telecommunication systems have improved, guards are able to check passes more efficiently." For example, if the purpose of the trip is to attend a wedding, the guard can confirm this by calling an official in the area where the celebrations are supposed to take place.
'Mobile guard posts' are a further obstacle for ordinary people intending to travel outside of their province. Security agents move from area to area by motorbike, inspecting people's documents. A mobile guard post has the right to stop anyone, at anytime.
Related Article:People believe that the sanction should hit hard on Kim Jong-un and the high ranks, but inevitably it is hitting on people's lives as well
Our reporting partner lamented, "Moving around the country is becoming harder as the authorities reinforce previously relaxed controls."
Many people in North Korea make ends meet by means of independent business. As controls on movement become tougher they are encroaching on people's ability to make a living.
【Related article】
◆ Korean People's Army Extends 10 Year Service Term To 11 Years
◆ <Photo Report on North Korea> North Korean People's Army Facing State of Starvation
◆ 〈Photo Report 4〉Inspection At The Metro Station Entrance – "No Shabby Cloths, No Large Luggage!"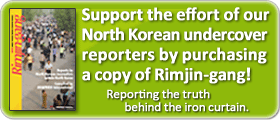 * Editor's notes on North Korean reporters
ARCHIVE(pdf) >>
DPRK MAP >>