What kind of food is available at hawker stalls in North Korea? In June 2010, a stall at the corner of a market sold tofu, noodles, pork over rice bowl, and pork innards in South Pyongan Province. They were prepared in advance then reheated when a customer ordered them.
◎ASIAPRESS rimjingang playlist>>
On a sunny day in Pyongyang, the hawker stalls were selling soba noodles (buckwheat noodles) with spinach on top in June 2011. Next to the stalls, a popsicle called an "Eskimo" was sold. It is made by an individual, not by a factory. "Man-made meat (made of the residue of used soybean oil) over rice," a very popular dish among North Korean citizens, was also there. It consists of chili and stewed "man-made meet" stuffed with rice.
During the winter, hot rice and alcohol are favored by the ordinary people in North Korea. Rice comes with spicy tofu soup. Soju (rice liquor) is also sold at hawker stalls.
In the past, those individually-owned hawker stalls did not exist in North Korea at all. However, the food rationing system collapsed and black markets became prevalent across the country in the mid-1990s. Hawker stalls selling rice cake, bread, and meals emerged after that. Since then, the number of hawker stalls has exploded. It has become very popular for North Koreans to eat out now.
Related article: [Video Report] Fleeing back alley vendors by cracking down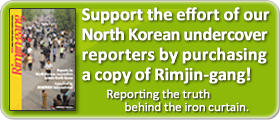 * Editor's notes on North Korean reporters
ARCHIVE(pdf) >>
DPRK MAP >>