Resolution "2270" of March 3rd to impose sanctions on North Korea, which is said to be the strictest one made by UN Security Council. Attention should be drawn on its effectiveness because it is dependent on the Chinese cooperation. Diverse voices are heard from the inside of North Korea. Last week, we have contacted a woman in her 30s in northern area of North Korea.
She is running a small business and her husband is working at a state enterprise. Her living standard can be said to be an average ordinary one in the country. She doesn't know the details of the UN sanctions and said: "We never mind whether they impose sanctions or not, since it is really hard for us to manage a life. There is hardly any influence on the ordinary people's life (from sanction), isn't there? The government doesn't distribute rice or rations, do they? We just barely make ends meet.
She believes that there wouldn't be any effects on her life since she is making a living by doing business, not depending on the state rations system which has already long gone.
We delivered the information that the coal export, a major item for earning foreign currency, would halt as China decides to act positively on the sanction this time. Her response was: "Our lives have always been under strain by the country. Even if there would be new situational strain and sanction, it doesn't matter. And have there been one or two sanctions only (in the past)? The ordinary folks are supposed to adopt themselves to difficult situation. Those who would feel difficulties (by sanctions) are the people in the high ranks.
It is common knowledge that the sanctions by the UN have been imposed on North Korea because of its rockets launching and nuke tests. But the authorities propagates that the imperialist America and its followers blocked the nation economically. North Korea could earn foreign currency through expanded trading volume with China, which made the nation feel free from the sanction. They have not regarded it as a threat to the people's lives and the government.
When we asked who the high ranks are, she replied: "They are those who earn foreign currency, bribe taking officials and Pyongyang". If the sanction is getting tougher, they are the very people who would be hit hard".
Whom is she referring as 'Pyongyang'? After a little bit of hesitating, she replied that it meant Kim Jong-un and said: "Kim Jong-un fears so much that he would be eaten by the US, thus trying to make nuclear bombs. We are talking each other that Kim Jong-un is going too far because he is too young to know.
This woman predicts that the sanction at this time would greatly affect the pivot of Kim Jong-un's regime rather than the ordinary people. However, if China executes the sanction, it would probably affect the people's lives with rising consumer prices due to the decreased foreign currency earning.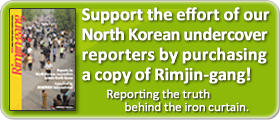 * Editor's notes on North Korean reporters
ALL REPORTS >>>
ARCHIVE(pdf) >>
DPRK MAP >>