"The 7th Korean Workers' Party congress," is the biggest fair since the inauguration of Kim Jong-un regime. It is reported that information about the congress is strictly kept confidential; the participants of the congress were prohibited from having a cell phone, being left without any notice about the itinerary. (defector reporter - Kang Ji-won and Paek Chang-ryong)
After the closing of the KWP congress, a couple of reporting reporters from North Hamkyung Province reported on May 11, 12 as follows:
"It was said that the participants gathered at Province and departed for (Pyongyang), but we didn't know when and how. They didn't allow carrying a cell phone not to be able to contact family, or making a call at Pyongyang."
What 'Province' means here is Cheongjin City of North Hamkyung Province where the province capitol is located.
Information about the congress has been strictly kept confidential for security reasons. Selection of the participants has been made through two tier system, but the second tier which was supposed to hold at Pyongyang was abruptly cancelled on early April. They also declared a special security period from May 2-6 without notifying any deadline of the Worker`s Party congress , just commencing on May 6. But suddenly right after opening the congress, they extended the period until May 10.

It is certain that this kind of disconcertion is for the security of Kim Jong-un. It is called 'Number 1 Event' at which Kim Il-sung, Kim Jong-il or Kim Jong-un attends. A defector from North Korea who had attended several times at 'No1 Event' said "It is normal to pay great attention on this level of national event" and testified as follows: "No participants without exception receive any details of the event in advance. More than four times of body search is done by agents of the Security Forces (Police), the State Security Department (Secret police), and its Event Department (In charge of No 1 Event) on participants' way to the venue. Any metal or hard material including cell phone can't remain in pockets. It is because, so called 'the security for the head of revolution members."
Although the foreign reporters to report the Worker`s Party congress were heavily checked for their belongings, it is not comparable what the residents had experienced for security checks. It is certain that the people in North Korea had greatly experienced inconvenience due to the vigilance and security.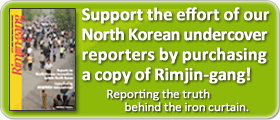 * Editor's notes on North Korean reporters
ALL REPORTS >>>
ARCHIVE(pdf) >>