◆ "A Taxi Driver" Gains Popularity Among North Korean Youth
The Kim Jong-un regime strictly bans the viewing and distribution of South Korean dramas and films. The authorities were highly embarrassed, however, when a teenager was caught watching South Korea's hit movie of 2017, "A Taxi Driver".
The incident occurred in early March in the northern region of Musan County, North Hamkyung Province.
A reporting partner living in Musan County explained, "A 17-year-old boy who just graduated from junior high school (equivalent to South Korean high school) was arrested after he was caught lending video files of the South Korean film to a friend. But, unlike the authorities' usual investigations into illegal distribution of South Korean dramas, the scope of this investigation is much larger. They are very serious about determining who watched the film and how it was acquired."
But what kind of film is it? When asked, the reporting partner answered, "It is called "A Taxi Driver". I haven't seen it but, since January, I've been hearing rumors that it's a very interesting film. It's quite a famous film in South Korea right?"
"A Taxi Driver" was a huge hit in South Korea, drawing in a box-office total of 12 million viewers when it was released in 2017.
◆Regime responds to the spread of Korean dramas with an iron fist
Pirate copies of popular South Korean dramas and movies first began to flow into North Korea from China in the early 2000's. In North Korea, these CDs and DVDs were further copied and sold in secret across the country.
At the time, the Kim Jong-il regime was afraid of its people learning too much about the situation in South Korea and swiftly took control. Those who were caught smuggling, distributing or selling South Korean media were severely punished. Despite handing lengthy prison sentences to even those guilty of just watching the media, the regime could not eradicate the practice.
A reporting partner from another region said, "If you watch 3 episodes of South Korean dramas, you will be given a 1-year prison term, a lot of people are actually being sent to prison. Because of that fear, the number of people watching Korean dramas dropped almost entirely over the last few years. But still, I think party officials watch them."
In addition, the ban on "A Taxi Driver" is specifically enforced. "If someone is caught watching that movie, bribes are not to be accepted, they must be sent to prison unconditionally," says the aforementioned partner from Musan County. Perhaps, this is because the movie depicts South Korea's struggle for democracy.
"A Taxi Driver" is set in 1980, when Gwangju became the center of South Korea's pro-democracy movement. As troops were deployed to quell the protests, citizens and students stood up together to demand democratization, with many of them injured or killed for their efforts. The death toll was catastrophic, with an investigatory committee later confirming 154 killed, 70 missing, and 1,628 injured. (Findings of the Investigation Committee for Truth)
The authorities must have been shocked that a film depicting South Korea's fight for democracy is secretly spreading among its young generation. An exhaustive joint investigation by the police and secret police is said to be underway. (Kang Ji-won / ISHIMARU Jiro)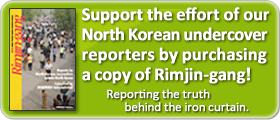 Editor's notes on North Korean reporters
ALL REPORTS >>>
ARCHIVE(pdf) >>
DPRK MAP >>